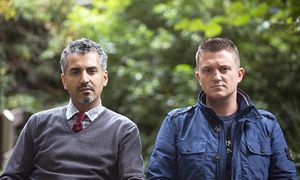 The 31-year-old, whose real name is Stephen Yaxley-Lennon, had previously admitted two counts of the offence at a hearing in November.
The controversial far-right figure was accused of conspiring with others to obtain a mortgage by misrepresentation from the Abbey and Halifax banks.
In an apparent comment on the sentencing at St Albans Crown Court, the Robinson took to Twitter to say,
"This is a complete stitch-up"
.
He also posted a picture of a meal of meat, mashed potatoes and chips, with the message "one last feed", and then "see u all in 18 months".
Robinson has previously served time in jail for using someone else's passport to travel to the United States.
He was given 10 months at Southwark Crown Court in January 2013 after admitting possession of a false identity document with improper intention.
During the course of last year he also had a series of brushes with the law when police tried to restrict marches by the EDL in the wake of the murder of Fusilier Lee Rigby.
Robinson quit the group in October, claiming he had concerns over far-right extremism.
He abandoned the group after discussing reforms with "counter-extremism" think tank, Quilliam.