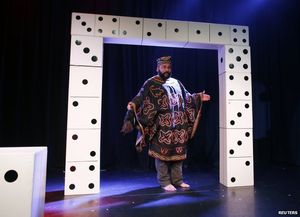 The French comic Dieudonne M'bala M'bala, who has convictions for anti-Semitic hate speech, has dropped a controversial show after it was banned.
He told reporters in Paris he would no longer perform
The Wall
, after France's highest court upheld a ban on the opening night of his tour on Thursday.
Citing "blatant political interference", he said he wanted to perform a new show devoted to Africa.
This new show has already been banned by the authorities in Paris.
Interior Minister Manuel Valls is seeking to keep Dieudonne kept off all stages in France
, condemning the comic's "mechanics of hate".
Police vans
"The Dieudonne controversy and the Le Mur show are over," Dieudonne said in a statement on French TV. "Now, I think we will get a chance to laugh more intensely with my new show."
"We live in a democratic country and I have to comply with the laws, despite the blatant political interference," he said.
The comic also denied being an anti-Semite.
Several police vans lined the street outside a Paris theatre where he had been due to perform on Saturday.
Supporters of the comic and critics of the bans accuse the authorities of denying Dieudonne freedom of speech.
Government lawyers argue that the nature of his act means it cannot be afforded protection under France's constitutional provisions on freedom of speech.
Excerpt from Dieudonn'e press conference: