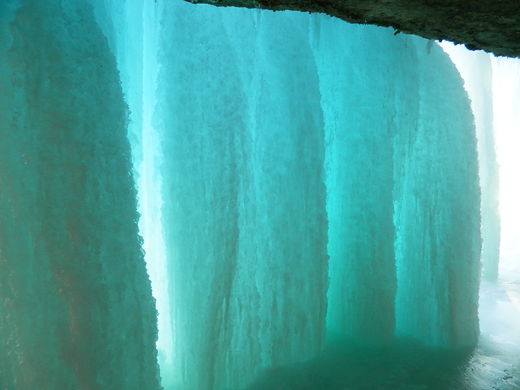 Frigid, dense air swirled across much of the U.S. on Monday, forcing some cities and their residents into hibernation while others layered up and carried on despite a dangerous cold that broke decades-old records.
Wind chill warnings stretched from Montana to Alabama. For a big chunk of the Midwest, the subzero temperatures moved in behind another winter wallop: more than a foot of snow and high winds that made traveling treacherous. Officials closed schools in cities including Chicago, St. Louis and Milwaukee and warned residents to stay indoors and avoid the frigid cold altogether.
The forecast is extreme: Wind chills were expected to drop as low as negative 55 Monday night in International Falls, Minn., and rebound to minus 25 to minus 35 on Tuesday. Farther south, the wind chill is expected to hit negative 50 in Chicago and minus 35 in Detroit.
School systems and day cares shut down as a precaution from the Dakotas to Maryland. But whether residents chose to stay home or head outside appeared to have less to do with the mercury and more with conditioning.
Emeric Dwyer of St. Paul wore only a London Fog trenchcoat and light scarf to protect himself from morning temperatures that got down to minus 20 in the Twin Cities. The 30-year-old was just glad his car started.
"It made a grinding noise I never heard before. But it started and got us here. Not too much to complain about," said Dwyer, who is originally from Duluth in the northern part of the state.
"In Duluth it's always cold," he said.
But it hasn't been this cold for almost two decades in many parts of the country. The National Weather Service said the temperature sank to 16 degrees below zero at Chicago's O'Hare International Airport, two degrees lower than the record for Jan. 6. Weekend snowfall at the airport totaled more than 11 inches - the most since a February 2011 storm that shut down the city's famed Lake Shore Drive.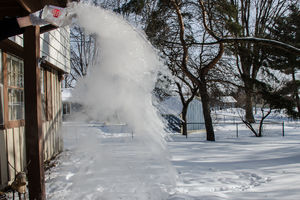 In Indiana, where many roads were rendered impassable because of snow and wind, authorities had a simple message: stay home.
"I know the roads look clear, the sun's out and it all looks nice," Indianapolis Mayor Greg Ballard said Monday. "But it's still minus 40 in wind chill - deadly temperatures. So we want to be very, very careful."
Ballard issued a travel ban for the city, making it illegal for anyone to drive except for emergencies or to seek shelter, until noon Monday. But he wants schools and businesses to remain closed another day until the worst of the severe cold passes.
Much of Indiana was blanketed in about a foot of snow Sunday, and many of the state's schools, businesses and municipal offices were closed Monday. Wind chills through Tuesday could reach 45 degrees below zero, according to the National Weather Service.
The Legislature postponed the opening day of its 2014 session, and the state appellate courts, including the Indiana Supreme Court, said they would be closed.
Many other cities came to a virtual standstill. In St. Louis, where more than 10 inches of snow fell, the Gateway Arch, St. Louis Art Museum and St. Louis Zoo were part of the seemingly endless list of closed facilities. Shopping malls and movie theaters closed, too. Even Hidden Valley Ski Resort, the region's only ski area, shut down.
Further north, those more accustomed to extreme winter weather kept moving, even if just a bit slower than usual.
Between a heater that barely works and the drafty windows that invite the cold air into his home, Jeffery Davis decided he'd be better off sitting in a downtown Chicago doughnut shop for three hours Monday until it was time to go to work. He threw on two pairs of pants, two t-shirts, "at least three jackets," two hats, a pair of gloves, the "thickest socks you'd probably ever find" and boots, and trudged to the train stop in his South Side neighborhood that took him to within a few blocks of the library where he works.
"I never remember it ever being this cold," said Davis, 51. "I'm flabbergasted."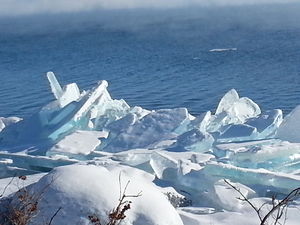 Elnur Toktombetov, a Chicago taxi driver, awoke at 2:30 a.m. Monday anticipating a busy day. By 3:25 a.m. he was on the road, armed with hot tea and doughnuts. An hour into his shift, his Toyota's windows were still coated with ice on the inside.
"People are really not comfortable with this weather," Toktombetov said. "They're really happy to catch the cab. And I notice they really tip well."
In downtown Chicago, a commuter train hit a "bumping post" as it pulled into a station, the second such accident of the day. Metra spokesman Michael Gillis said six passengers were taken to a hospital with minor injuries Monday after the train hit the post at the end of a platform. A less serious incident occurred at the same station around 6:15 a.m., but no passengers were injured.
Continuing a decades-old practice, Chicago Transit Authority was handing out fare cards to social service agencies to be distributed to the homeless so they could ride buses and trains to stay out of the cold.
More than 40,000 homes and businesses in Indiana, 16,000 in Illinois and 2,000 in Missouri were without power early Monday. Indianapolis spokesman Marc Lotter said emergency crews accompanied about 350 people to shelters around the city.
Southern states were bracing for possible record temperatures too, with single-digit highs expected Tuesday in Georgia and Alabama.
Temperatures plunged into the 20s early Monday in north Georgia, the frigid start of dangerously cold temperatures for the first part of the week. The Georgia Department of Transportation said its crews were prepared to respond to reports of black ice in north Georgia.
Source: The Associated Press