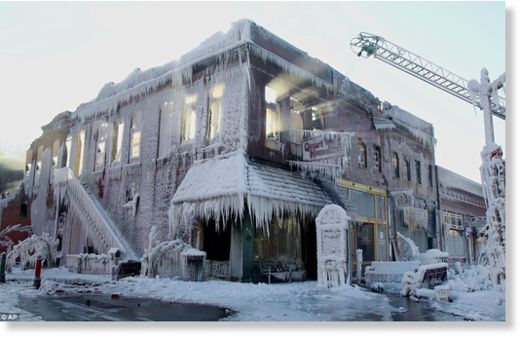 Experts have warned that Friday's freezing temperatures were simply a warm-up and that this weekend will bring a big chill for 140 million people - almost half the nation - that could prove fatal for the unprepared - and will continue through the winter.
With the Northeast still reeling from the huge storm that dumped as much as two-feet of snow across the region and was responsible for the deaths of 13 people, a new weather system is threatening to bring record low temperatures to the Midwest as a polar vortex barrels over the United States.
'It's the mother lode of cold air,' said Weather Channel coordinating meteorologist Tom Moore. 'On the heels of what will be the coldest air of the season, will be dangerous, life-threatening winds.'
The temperature predictions are startling: 25 below zero in Fargo, North Dakota, minus 31 in International Falls, Minnesota, and 15 below in Indianapolis and Chicago.
Moore said that as the freakishly cold weather hits the region, authorities need to act fast to avoid a human catastrophe because of the chill. 'Anybody living out on the streets needs to be rounded up and put into a shelter,' said Moore to MSNBC News. 'The repercussions for not could be deadly, and I'm afraid we're going to see cases like that.'
The temperature predictions are startling: 25 below zero in Fargo, North Dakota, minus 31 in International Falls, Minnesota, and 15 below in Indianapolis and Chicago. The so-called 'polar vortex' will send cold air piled up at the North Pole down to the U.S., funneling it as far south as the Gulf Coast.
Weather expert Andrew Freeman of Climate Central explains that the rarity is 'an area of cold low pressure that typically circulates around the Arctic during the winter, spreading tentacles of cold southward into Europe, Asia, and North America at times. Except this time, it's not a small section of the vortex'.
Additional images
At those temperatures, exposed skin can get frostbitten in minutes and hypothermia can quickly set in because wind chills could hit 50, 60 or even 70 below zero.
Temperature records will likely be broken during the short, yet forceful deep freeze that will begin in many places on Sunday and extend into early next week.
That's thanks to a perfect combination of the jet stream, cold surface temperatures and the polar vortex - a counterclockwise-rotating pool of cold, dense air, said Ryan Maue, of Tallahassee, Florida, a meteorologist for Weather Bell.
'All the ingredients are there for a near-record or historic cold outbreak,' he said. 'If you're under 40 (years old), you've not seen this stuff before.'
And though this cold spell will last just a few days as warmer air comes behind, it likely will freeze over the Great Lakes and other bodies of water, meaning frigid temperatures will likely last the rest of winter, Maue said.
The weather system is threatening to cause subzero lows as far south as Alabama, and plunge much of the Deep South into the teens.
Snow already on the ground and fresh powder expected in some places ahead of the cold air will reduce the sun's heating effect, so nighttime lows will plummet thanks to strong northwest winds that will deliver the Arctic blast, Maue said. And there's no warming effect from the Gulf to counteract the cold air, he said.
The cold blast will sweep through parts of New England, where residents will have just dug out from a snowstorm and the frigid temperatures that followed.
Parts of the central Midwest could also see up to a foot of snow just as the cold sweeps in pulling temperatures to 10 below zero in the St. Louis area.
Even places accustomed to normally mild to warmer winters will see a plunge in temperatures early next week, including Atlanta where the high is expected to hover in the mid-20s on Tuesday.
'This one happens to be really big and it's going to dive deep into the continental U.S. And all that cold air is going to come with it,' said Sally Johnson, meteorologist in charge at the National Weather Service in Sioux Falls.
It's relatively uncommon to have such frigid air blanket so much of the U.S., maybe once a decade or every couple of decades, Maue said.
But in the long-run the deep temperature dives are less meaningful for comparison to other storms than daytime highs that are below-zero and long cold spells, he said.
So far, this winter is proving to be a cold one.
'Right now for the winter we will have had two significant shots of major Arctic air and we're only through the first week of January. And we had a pretty cold December,' Maue said.
Cities and states are already taking precautions.
Minnesota called off school for Monday statewide, the first such closing in 17 years, because of projected highs in the minus teens and lows as cold as 30 below.
Milwaukee and Madison, Wisconsin, students also won't be in class Monday. North Dakota Governor Jack Dalrymple urged superintendents to keep children's safety in making the decision after the state forecast called for 'life threatening wind chills' through Tuesday morning.
Sunday's playoff game in Green Bay could be among one of the coldest NFL games ever played and Packers fans may get a side-treat as beers are expected to freeze.
Temperatures at Lambeau Field are expected to be a frigid minus 2 degrees when the Packers and San Francisco 49ers kick off, and by the fourth quarter it'll be a bone-chilling minus 7, with wind chills approaching minus 30, according to the National Weather Service.
Officials are warning fans to take extra safety measures to stay warm including dressing in layers and sipping warm drinks.
And though this cold spell will last just a few days as warmer air comes behind, it likely will freeze over the Great Lakes and other bodies of water, meaning frigid temperatures will likely last the rest of winter, Maue said.
'It raises the chances for future cold,' he said, adding it could include next month's Super Bowl in New York.
Massachusetts officials were monitoring flooding in communities including the wealthy town of Scituate, about 30 miles south of Boston, and parts of the Cape Cod beach resort areas.
Some roads and waterfront parking lots were submerged by midday as waves crashed over sea walls and flowed around the foundations of homes when high tide hit at noon local time (EST).
Boston was hard-hit by the first major winter storm of 2014, getting nearly 18 inches of snow, while some towns north of New England's largest city saw close to two feet of accumulation.
Homeowners and motorists dug out across the white-blanketed Northeast on Friday as extreme cold ushered in by the storm threatened fingers and toes but kept the snow powdery and mercifully easy to shovel.
Major cities from Washington, D.C., to Portland, Maine, were slammed, with New York City getting 6 inches of snow in Manhattan and parts of Queens seeing more than 10 inches of fresh powder.
Snow tapered off across the hard-hit Philadelphia-to-Boston corridor by midday but dangerous cold was expected to linger into Saturday.
The National Weather Service said the mass of Arctic air would drop temperatures to 20 to 30 degrees Fahrenheit (11-17 C) below normal, with record lows possible in some areas on Friday.
'Over the next 24 hours, we are going to see temperatures like we haven't seen in quite a while,' said Peter Judge, a spokesman for the Massachusetts Emergency Management Agency.
'Parts of the state are going to see temperatures 20 degrees below zero (F/-29 C) - not with wind-chill, real temperatures. It's going to be problematic.'
Temperatures in the Northeast are expected to rise above freezing over the weekend before the arrival of another blast of frigid air that was already affecting the Midwest.
In Wisconsin, the mercury dipped to minus 18 Friday morning in Green Bay, breaking by a single degree the record set in 1979.
Minnesota Governor Mark Dayton ordered school canceled on Monday statewide, the first such closing in 17 years, because of projected highs in the minus teens and lows as cold as 30 below.
Officials from the upper Midwest to New England were preparing for another arctic blast over the next few days that could be even worse. Emergency officials warned that anyone spending more than a few minutes outdoors in such conditions could suffer frostbite.
As temperatures in New York City dropped to 14F, the city's Department of Homeless Services went to 'code blue,' doubling the number of vans patrolling streets to seek people who needed shelter and streamlining the check-in process for homeless shelters.
In Newport, Rhode Island, the Seaman's Church Institute said it would stay open round-the-clock until the cold breaks to give mariners and others who work in or around the harbor a warm place to stay, shower and eat.
The unusually cold weather extended as far south as New Orleans, where temperatures approached 35F, prompting officials to open emergency shelters for the homeless.
Washington received more than 2 inches of snow, Philadelphia roughly 5 inches and Hartford 7 inches.
Temperatures reached 8 below zero in Burlington, Vermont - with a wind chill of 29 below - and 2 degrees in Boston. Wind chills there and in Providence, R.I., made it feel like minus-20 on Friday morning, and the forecast called for more of the same into Saturday.
The snow prompted high school student Noa Randall, 17, to strap on a pair of cross-country skis to navigate Cambridge, Massachusetts, just outside Boston, where schools were closed on Friday.
'I bike everywhere, so it's hard to get places, so I'm using skis instead,' said Randall. 'It's perfect, and it's nice and fluffy.'
The light, powdery snow was a blessing in another respect: It did not weigh down electrical lines or tree limbs, and as a result, there were only a few thousand power outages across the Northeast.
Some 2,076 U.S. flights were canceled and 2,083 were delayed on Friday, according to FlightAware.com, which tracks air traffic. However air travel was gradually resuming with JFK airport reporting that the first flights had now landed and departed on Friday afternoon.
New York's LaGuardia Airport, Newark Liberty International Airport and Philadelphia International Airport reported the most canceled departures.
The weather was a factor in at least 13 deaths, the Associated Press reported. Slick roads were already blamed for several traffic deaths. In Kentucky, a 50-year-old woman died on Thursday morning when she lost control of her car on an icy road near South Williamson, according to state police.
In addition, a 71-year-old woman with Alzheimer's disease froze to death after she wandered away from her rural western New York home. And a worker in Philadelphia was killed when a 100-foot-high pile of road salt fell and crushed him.
The storm posed the first major challenge to New York's new mayor, Bill de Blasio. He said nearly 2,500 snow plows were on the streets of the biggest U.S. city as of early Friday, with the top accumulation 6.5 inches.
He started his day shoveling and salting the walk in front of his Brooklyn brownstone - a task his wife had said their 16-year-old son Dante would handle.
Dante turned up later, not being an early riser, his father said at the briefing.
Asked what grade he would give his teenage son, Mayor de Blasio said: 'I give Dante an A for effort and a D for punctuality.'
Some New Yorkers grumbled about the city's response.
'I'm sure mayor de Blasio is doing what he can, but a lot of the streets haven't been cleared at all and I'm not too happy about that,' said Anesha Jones, 26, as she walked through Brooklyn to her job as a bank teller. Others took the storm in stride.
'It's winter. It snowed. It happens,' said Mark Kulpa as he shoveled a sidewalk outside his Brooklyn workplace.
He said the response was better than a Christmas 2010 blizzard, where then-Mayor Michael Bloomberg came under heavy criticism for the city's slow response while he was out of town on vacation.
'At least they are out plowing and spreading salt. That's already a step up,' Kulpa said.
New York Governor Andrew Cuomo said the storm had little impact on New York City's transportation network, but blizzard-like conditions meant rail service on Long Island would run on weekend schedules.
In Boston, downtown was sparsely populated, with many workers heeding Governor Deval Patrick's suggestion to stay home and avoid traveling on icy roadways.
In Washington, the Office of Personnel Management told hundreds of thousands of federal workers they could work from home or take an unscheduled leave because of the storm.
The United Nations in New York and federal courts in New York City, Newark, New Jersey, and Boston shut down. Schools closed across much of the region.
The governors of New York and New Jersey declared states of emergency.
In New York, a court conference for former SAC Capital Advisors portfolio manager Mathew Martoma was moved to Monday, delaying the start of his criminal trial until Tuesday. Martoma was one of nine former SAC employees arrested as part of a broad insider trading probe by the U.S. Attorney's office.
The U.S. Bankruptcy Court in Wilmington, Delaware postponed for a week a hearing to decide the fate of Fisker Automotive, a bankrupt manufacturer of plug-in hybrid sports cars that was launched with a U.S. government loan.
Snow began falling overnight Wednesday in parts of New England and New York state, but the brunt of the storm began late on Thursday.
The National Weather Service issued a blizzard warning for Cape Cod, coastal areas north and south of Boston and part of Maine as well as New York's Long Island.
Forecasters warned that gusts of up to 30 miles per hour could bring wind chills to minus 25 degrees, cold enough to cause frostbite in about 30 minutes or less. The weather service said people should dress warmly to avoid hypothermia and cover all exposed skin.
Governors in New York and New Jersey declared states of emergency, urging residents to stay home. Massachusetts Governor Deval Patrick said state offices that closed early Thursday would remain closed Friday.
He said National Guard members and state police were on standby for any high tide flooding in vulnerable coastal areas, but no mandatory evacuations had been ordered.
New York Governor Andrew Cuomo ordered three major highways in his state, stretching from Long Island to Albany, closed overnight. The Thruway between Albany and the Bronx reopened for passenger vehicles at 5 a.m. Friday and was scheduled to reopen to commercial vehicles at 8am.