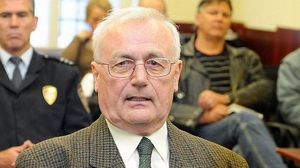 Croatian police has arrested a former top spy sought by Germany in a case that sparked a row between the European Union and Zagreb.
Josip Perkovic, a former Yugoslav secret service agent and Croatia's ex-intelligence chief, was taken into custody on Wednesday, his lawyer Anto Nobilo said.
The former spy is wanted for his alleged role in the killing of a Croatian dissident in 1983 in Germany.
Nobilo said Perkovic would oppose extradition to Germany and that a Zagreb court was to rule on the case within eight days.
The arrest came on the same day as Zagreb lifted a limitation it had imposed on extraditions with the EU.
Croatia had changed its laws a few days before it joined the bloc on July 1, effectively stopping an extradition of Perkovic.
The move caused Brussels to threaten Zagreb with sanctions from EU, starting with 80 million euros ($110 million) in finance aid for 2014 aimed at improving the country's border controls.
Following the dispute with the bloc, Croatia bowed to pressure and amended the law in October, paving the way for the arrest and the likely extradition of suspects on European warrants.
Analysts have speculated that Croatia was reluctant to have Perkovic extradited as he could have compromising information on influential people with the country's politics and society.
However, the Croatian government has said its intention with the limitation was to protect those who participated in the 1990s independence war from being investigated by the EU.
CAH/AS