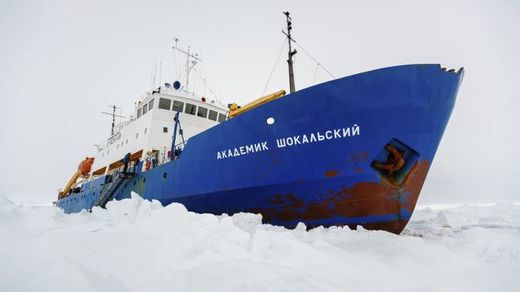 Antarctic ice trapped a ship full of scientists on a climate change expedition. Yet, 96 percent of network news reports about the stranded researchers ignored climate change entirely. The ship has been stuck since Christmas morning.
The broadcast networks mostly ignored the reason the Russian ship,
Akademic Shokalskiy
, was on its way to Antarctica. Twenty-five out of 26 stories (96 percent) on the network morning and evening news shows since Dec. 25 failed to mention climate change had anything to do with the expedition.
In fact, rather than point out the mission of the scientists to find evidence of climate change, the networks often referred to the stranded people as "passengers," "trackers" and even "tourists," with
no mention of climate change or global warming
. Chris Turney, the expedition's leader, is a
professor of climate change
at the University of South Wales. According to Turney's
personal website
, the purpose of
the expedition
is to "discover and communicate the environmental changes taking place in the south."
So far, three rescue attempts have been thwarted by growing levels of sea ice and weather conditions. The passengers are now expected to be airlifted by helicopter, according to
The Associated Press
. ABC's "Good Morning America" reported Dec. 30, that "the ice could be as thick as 13 feet."
According to
Fox News
, Turney admitted "we're stuck in our own experiment." They reported on Dec. 30, that a statement from the Australasian Antarctic Expedition said, "
Sea ice is disappearing due to climate change, but here ice is building up
."
The only network news report to mention climate change at all was CBS "This Morning" on Dec. 30. "Despite being frozen at a standstill, the team's research on climate change and Antarctic wildlife is moving forward," CBS News Correspondent Don Dahler said. That night, all three evening news programs still failed to make any mention of the group's climate change research. The MRC's Business and Media Institute was unable to view a copy of CBS "Sunday Morning" for Dec. 29, so that broadcast had to be excluded from the tally.
Before their ship got stuck in ice, the researchers were following the trail of the explorer
Douglas Mawson
, who was stranded in Antarctica for more than a year, beginning in December 1912, according to the website about the expedition.
Mike Ciandella is Staff Writer/Analyst for the Business &Media Institute
Click here
to follow Mike Ciandella on Twitter.