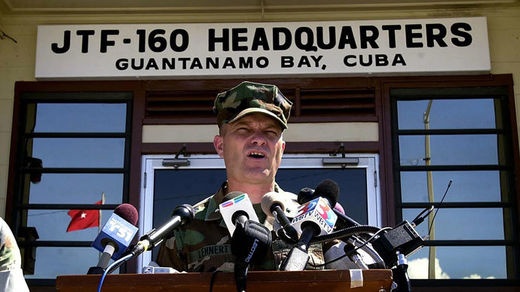 The American general in charge of opening the Guantanamo Bay prison camp in Cuba has come out in favor of closing the facility, declaring,
"the entire detention and interrogation strategy was wrong."
Writing in the
Detroit Free Press
, Marine Major General Michael Lehnert stated the time has come to close Guantanamo, and that the prison
"should never have been opened."
Lehnert was the leader of the 2002 Joint Task Force charged with constructing a prison in Guantanamo Bay. He said the facility was created out of fear caused by the September 11, 2001 attacks on the World Trade Center, when the U.S. believed those detained would offer a "treasure trove" if intelligence.
Soon after Guantanamo opened, however, Lehnert decided the operation was a mistake.
Most of the individuals captured did not have much information, he said, nor was there adequate evidence connecting them to war crimes.
"We squandered the goodwill of the world after we were attacked by our actions in Guantanamo, both in terms of detention and torture," Lehnert wrote in his column. "Our decision to keep Guantanamo open has helped our enemies because it validates every negative perception of the United States."
Earlier this week, the Senate and House Armed Services committees reached a deal that would ease restrictions on transferring Guantanamo detainees to other countries. According to the 2014 National Defense Authorization Act (NDAA) being debated in Congress, the Pentagon would be able to send current detainees to facilities in Yemen, but would require the government to report on Yemen's capacity to detain and prosecute the prisoners.
The NDAA doesn't cover all the individuals currently held at the Naval base in Cuba, and it still would not allow the White House to move detainees to the United States - a ban Lehnert called "unwise and unnecessary" - but it would let President Barack Obama move closer to his goal of closing Guantanamo.
On his second day in office, Obama signed an executive order establishing the closure of the facility, but faced opposition in Congress, which ultimately placed restrictions on the administration's ability to transfer detainees. During his reelection campaign, Obama renewed his goal, saying that keeping the prison open is "not sustainable."
Since 2002, the U.S. has held 779 men in Guantanamo. About 162 remain at the facility, and the NDAA would allow the U.S. to transfer more than 80 who remain in detention despite being cleared for relocation.
"It is time that the American people and our politicians accepted a level of risk in the defense of our constitutional values, just as our service men and women have gone into harm's way time after time to defend our Constitution," Lehnert wrote. "If we make a mockery of our values, it calls us to question what we are really fighting for."
"It is time to close Guantanamo," he concluded. "Our departure from Afghanistan is a perfect point in history to close the facility."