A crowd of about 400 foreign workers, angered by a fatal road accident, set fire to vehicles and attacked police and emergency services workers late Sunday in Singapore's ethnic Indian district, injuring at least 18 people in a rare riot in the city-state.
Police and eyewitnesses say the riot, the first major outburst of public violence here in more than four decades, started at about 9:23 p.m. local time (1323 GMT) after a bus hit and killed an unnamed 33-year-old Indian man in the Little India neighborhood, prompting large groups of South Asian workers to attack the bus with sticks and garbage bins.
Authorities quelled the violence before 11 p.m. after deploying 300 police officers to the scene, including its riot-control squad and Gurkha unit, police officials said in a news briefing early Monday, adding that officers didn't use any firearms to end the riot.
Police arrested 27 people, all of South Asian origin, who weren't named and couldn't be contacted. It wasn't clear if the arrested people have received legal representation. No Singaporeans were known to be involved in the violence, which didn't appear to be preplanned, officials said, adding that further arrests may be made in the coming days as investigations continue into the riot and the accident that sparked it.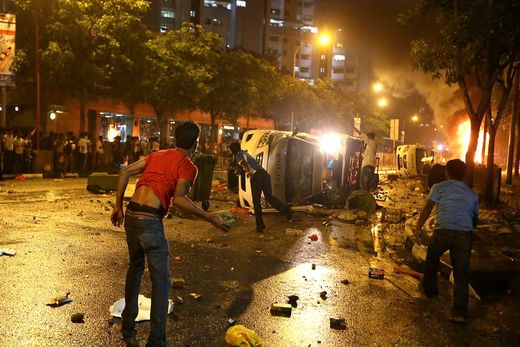 The bus driver in the fatal accident has yet to be publicly identified.
In an early Monday statement on his Facebook page, Singapore Prime Minister Lee Hsien Loong described the riot as "a very grave incident," and said police will "spare no effort to identify the culprits and deal with them with the full force of the law."
Little India, located in central Singapore, is a popular weekend hangout for expatriates and migrant workers from South Asian countries such as India, Bangladesh and Sri Lanka. Crowds typically gather there in the thousands on Sunday evenings.
The riot has sparked concerns of festering unrest amid the large foreign workforce, numbering about 1.3 million as of June, in this island state of 5.3 million people. In recent years, some foreign laborers - particularly low-pay unskilled workers in construction - have resorted to protests against alleged exploitation by employers, including a rare and illegal strike last year by about 170 public-bus drivers hired from China.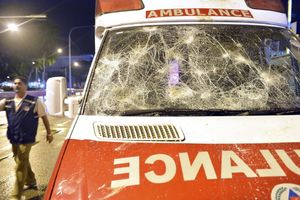 "It's an awakening to the government. They want to bring in foreign talent but there are consequences," said Michael Singh, a driver not involved in the fatal accident, whose private bus was damaged when rioters threw stones and smashed the vehicle's windshield and glass door. "It's only a matter of time before things get out of control," he said.
Officials sought to allay such worries in the immediate aftermath of the riot. "By and large, the relationships [between migrant workers and Singaporeans] are good," Deputy Prime Minister and Home Affairs Minister Teo Chee Hean said in a news briefing early Monday. "We welcome guest workers here who are law-abiding and who want to make a living for themselves."
Even so, police would "pay extra attention not just to Little India, but also to foreign-worker dormitories and known places of congregation, moving forward," Police Commissioner Ng Joo Hee said at the briefing.
Police officials said they were treating the incident as a case of "rioting with dangerous weapons," an offense that carries penalties including up to 10 years' jail, as well as caning.
Video footage aired on social media and local television showed rioters turning police cars onto their sides and setting vehicles on fire. At least 18 people were sent to hospital, Singapore's Civil Defense Force said, adding that four of its first responders were among the injured. Police officials said 10 officers were hurt, none seriously, while the bus driver involved in the fatal accident - a Singaporean - was hospitalized.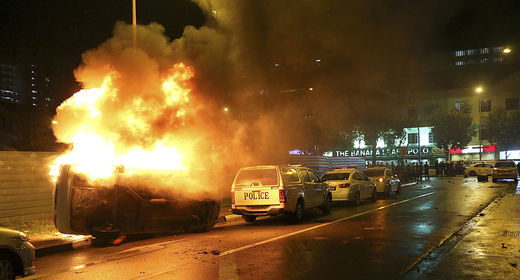 Five vehicles were burned - including three police vehicles, an ambulance and a motorcycle, the Civil Defense Force said. Several other vehicles - including police, civil defense, and privately owned cars - also were damaged, officials said.
Wall Street Journal
reporters at the scene saw dozens of police officers, wearing Kevlar helmets and carrying riot shields, cordoning off the area late Sunday. At least two police cars were turned on their sides, and smoke rose from burned-out vehicles along the road where the riot took place.
Residents in Little India said occasional fights have broken out between foreign workers who gather there, but large-scale violence is unheard of. "There has been nothing of this magnitude [before]," said Alfred Low, who lives in a state-built apartment block in the district. "When this happens, it worries us, what would happen next?"
Many shopkeepers in the area shut their businesses once the violence broke out. One of them, a 73-year-old retired policeman who runs a medicine store, who only gave his name as Raja, said Sunday's incident reminded him of racial riots that plagued Singapore in the 1950s and 1960s.
Singapore last experienced a major riot in 1969, when racially charged violence broke out for seven days between the city-state's majority ethnic Chinese and minority Malay residents, leaving at least four dead and 80 injured.
Write to Chun Han Wong at
chunhan.wong@wsj.com
and Esther Fung at
esther.fung@wsj.com
Corrections & Amplifications
An earlier version of this article incorrectly referred to Alfred Low as Alfred Tan.