More than 1,100 who rushed to the aid of those stricken on 9/11 have been diagnosed with cancer directly related to the September 11 attacks.
According to the Center for Diseases Control's National Institute for Occupational Safety and Health (NIOSH), 1,140 people have been officially classed as suffering from a WTC-related cancer and that number is expected to grow.
'There are more cases out there, because we just know of the people in our government-funded medical programs, not those who have been treated by their private doctors,' said Dr. Jim Melius, chairman of the WTC Responder Medical Program, to the
New York Daily News
.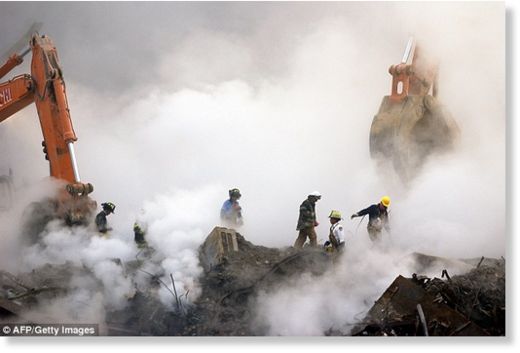 The NIOSH figures are as recent as August and a Mount Sinai Medical Center study also found a 15 percent higher cancer rate among 9/11 responders than those who were not exposed to the toxic cloud that bellowed out from Ground Zero.
'Because of the carcinogens in the air at ground zero, people who were exposed are vulnerable. And with cancer, there is a delay,' said Dr. Melius to the
New York Daily News.
North Shore Hospital oncology nurse, Tim Engel, told the newspaper that she has seen 12 new cases in the last two months and there are 25 patients who have their cancer test results pending.
'The good news is that with new federal funding, I get what I need when I need it for our patients,' Engel said.
'Their biopsies and scans are turned around in a week. Cancer trumps everything.'
In September 2012, federal health authorities
added 58 types of cancer
that those who were exposed to toxins at the site of the 9/11 attacks were reported to suffer from.
As many as 65,000 people, including first responders, became sick from 9/11 exposure, according to the Centers for Disease Control.
As the North and South Tower's of the World Trade Center collapsed tat day, potential cancer-causing agents such as asbestos that lined the building's lower columns and benzene in jet fuel were released into the atmosphere.
However, federal officials were worried to make any connection between 9/11 and cancer because while an individuals illness may have been caused by their exposure on 9/11, it may also have been a coincidence they were there.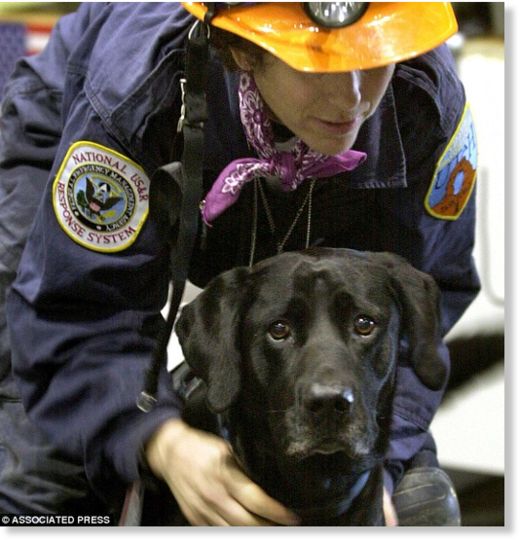 Undeterred by this, a 2011 study published in The Lancet medical journal discovered that firefighters who were at the scene in on September 11th were 19 percent more likely to develop cancer than those who were not.
According to
CNN
, one theory as to why this increase has developed is because of the large number of chemicals in the Ground Zero dust - leading to an acceleration in those susceptible to developing cancer.
Following the recognition that cancers were being caused by exposure to the debris of 9/11, the WTC Health Program was passed because of the passage of the James Zadroga 9/11 Health and Compensation Act.
The Zadroga Act, which was passed by Congress in December 2012 is designed to provide medical services and compensation for first responders exposed to the toxins that day.
Indeed, President Obama signed $4.2 billion through to legislation in January 2011 which will help meet the costs of those suffering cancer.
The Top Ten Cancers Reported Among First Responders as of August 2013
Nonmelanoma Skin Cancer: 156 cases
Melanoma of the Skin: 117 cases
Non-Hodgkin's lymphoma: 112 cases
Thyroid: 97 cases
Leukemia: 76
Lung: 72
Kidney: 68
Bladder: 62
Colon: 61
Breast: 55