A Fairfax Station boy is undergoing emergency life-saving treatment at Inova Children's Hospital after he stepped out his door and into the fangs of a copperhead snake.
Michael Alford, 12, ran out of his house around 10:30 p.m. Wednesday wearing sandals. He says he stepped on something and when he lifted his foot, a snake tore into it.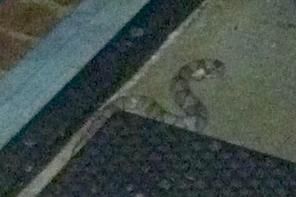 "[I] opened the door and I stepped on a snake, a copperhead. I don't know whether I stepped on his tail or his head, but I took my foot off and he bit me."
Alford's mother asked him to run to the car to get a token. What he came back with left her frightened and frantic.
"He just ran up the steps and looked at me and was like 'A snake just bit me!' so I was a little freaked out," Kara Allan says.
The family came to Inova Children's, which is equipped to administer the series of anti-venom shots. Dr. Minal Amin says copperhead bites can be serious. They have seen several in the past few weeks at Inova Fairfax Hospital.
"We would recommend for someone to get away from the snake and elevate the extremity and come to the nearest hospital," Amin says.
Meanwhile, Alford watches the swelling, which is slowly receding.
"I'm doing better. The anti-venom is pushing it back to where it started," he says.