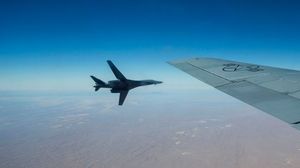 The US Air Force says that a B-1 bomber has crashed in a remote area of southeastern Montana, but all of the crew escaped with some injuries.
"We are actively working to ensure the safety of the crew members and have sent first responders to secure the scene and work closely with local authorities at the crash site," Col. Kevin Kennedy, commander of the 28th Bomb Wing, said in a statement on Monday.
Two pilots and two weapons system officers ejected from the bomber before the crash near Broadus, Montana, Kennedy added.
The commander also said the US Air Force will conduct an investigation to determine the cause of the accident, the Associated Press reported.
Ellsworth Air Force Base officials did not say whether the aircraft was carrying weapons at the time of the crash.
The B-1 Lancer is a swing-wing bomber intended for high-speed, low-altitude penetration missions.
There are about 60 B-1's remaining in the US Air Force fleet.