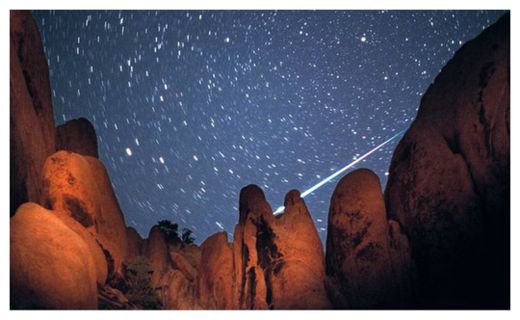 Unlike trees, when a meteor falls in the wilderness, everyone can hear it.
And some Orange County residents think that's exactly what they heard when a thunderous boom rattled windows, scared pets and startled homeowners from their sleep early Tuesday morning.
About 12:15 a.m., the Orange County Sheriff's Department received three or four calls from residents in Lake Forest's Foothill Ranch community about a loud explosion and a flash of light. Several South Orange County residents also tweeted about the incident, asking about the source of the blast.
Entire neighborhoods emptied into the streets in the middle of the night, residents said, with some pointing to what looked like a cloudy path overhead as the telltale sign of some galactic visitor.
Seven sheriff's deputies and a helicopter swarmed the area to investigate within half an hour of the reports, but found nothing.
Lt. Jeff Hallock said deputies chatting over the radio speculated that it was a meteor striking the canyon. The deputy's guess was based on the numerous reports of an explosion and flash of light, Hallock said.
As dispatchers guessed about the blast's origin, Foothill Ranch resident Korosh Torkzadeh heard them chatting about a meteor over law enforcement scanners.
"Am I hearing this right?" the 29-year-old recalled thinking. "At that point, it was just kind of amazement."
Southern California Edison said there were no explosions in that area Tuesday morning. The Orange County Fire Authority didn't respond to any explosions and the
Jet Propulsion Laboratory
in Pasadena didn't spot any asteroids, officials said.
So what was it? It appears to be anyone's best guess at this point.
"It was very strange," Foothill Ranch resident Patrick Driscoll said. "We heard this sound; it was like a big explosion. My wife and daughter both felt like it was right next to the house."