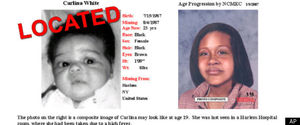 A woman who was reunited with her family nearly 25 years after she was kidnapped from a New York City hospital cannot sue the city for damages, a state judge has ruled.
Carlina White, whose dramatic story spawned headlines and a Lifetime television movie, was taken from Harlem Hospital in 1987, when she was 19 days old, and raised by her kidnapper in Connecticut.
After essentially solving her own case and finding her birth parents, White sued the city for $2 million last year.
Manhattan state Supreme Court Justice Kathryn Freed, however, said that White could not sue because her parents had already done so on her behalf in 1988, reaching a $750,000 settlement that included money set aside for White if she were found before her 21st birthday.
Plaintiffs are barred from filing claims that have already been adjudicated.
"The court finds unavailing plaintiff's argument that she was denied a rightful opportunity to sue because she was an infant when the federal action was commenced," Freed wrote in a decision dismissing the case that was made public on Wednesday. "Indeed, plaintiff's interests in the federal action were represented by her biological parents and their counsel."
But Eugene Byers, a lawyer for White, said on Thursday that she had still not gotten her day in court. The city's law department said in a statement that the court had reached the right decision.
White, who goes by the name Nejdra Nance, was raised by her kidnapper, Ann Pettway. When she turned 16, White asked for her birth certificate and other documents, and Pettway confessed that she was not White's biological mother.
Pettway was convicted in Manhattan federal court and sentenced to 12 years in prison last summer. Meanwhile, in 2010, White noticed a photo of a missing infant that strongly resembled her own daughter and suspected that she was the child.
White contacted the National Center for Missing and Exploited Children, and DNA confirmed the link between her and her biological parents.
The 24-year gap between White's kidnapping and her reunion with her family is one of the longest in non-parental abductions in history, according to the National Center for Missing and Exploited Children.
White's relationship with her biological parents has since deteriorated, in part due to the media attention, according to Freed's ruling. By the time White was identified, the trust money that had been set aside for her in the 1992 settlement had already been released to her parents, who had spent it.