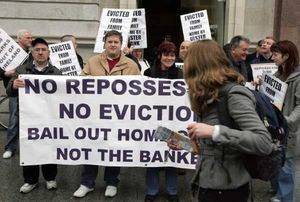 Grim figures show tens of billions owed by a generation of Irish people
Homeowners are sitting on a debt time bomb with over 180,000 mortgages in arrears, shocking new figures have revealed.
Almost one in five home loans, worth €25.5 billion, were not being fully repaid at the end of March, the Central Bank confirmed.
And between January and March, bailed out banks took back the keys of more than 160 homes as the problem escalates.
Comment:
Same old
Land War
by other means. Tenant evictions have returned to Ireland, and so has the need for boycotting (ostracising) anyone involved in this malicious practice of collecting usury on behalf of the banks.
The grim data revealed:
Those in arrears of more than 90 days has reached over 95,000 or 12.3% - up from 11.9% in the previous three months
Over 142,118 private households were behind with their repayments in the first quarter of this year
On the landlord and investment side, 39,371 buy-to-let mortgages are in trouble.
David Hall of the Irish Mortgage Holders' Organisation said: "A generation of Irish people are now locked into an endless battle of attrition with the banks.
"In order for those in debt to return to contributing to the economy, we need effective, swift, fair and certain resolution to the household debt crisis."
Around 95,554 private households were in arrears of over 90 days at the end of March - up from 92,349 at the end of the previous quarter.
The number of those in arrears for about two years and more had also increased from quarter to quarter - from 23,523 at the end of December to 25,940 at the end of March.
Mr Hall accused the banks of failing to face up to the massive arrears time bomb.
He said that extending the loan term and allowing interest only payment did little for homeowners and only delayed the inevitable.
"A term extension works if you are very young, but for most people it is just delaying payments.
"The biggest problem here is that not all the solutions are available for all of the people and the banks choose the methods themselves."
The figures also showed a hike in distressed buy-to-let mortgages.
Nearly 20% of these loans - 29,369 - were in arrears of more than 90 days at the end of March compared to 28,366 in the previous quarter.
Meanwhile, a total of 166 private households were repossessed in the first three months of this year.
This brought the total number of properties in lenders' possession to 910.
Seventy-seven buy-to-let properties were repossessed, bringing the total number of landlord and investment properties in lenders' possession to 479.
There are now 77,349 mortgages in arrears for over 180 days and analysts say these loans will probably have to be written off.
This will blow a massive hole in the bank's balance sheets which could mean they need billions of euro more from the taxpayer.
Many leading economists have forecast that the banks will need around €20billion to clear their mortgage bad loans.
Earlier this year, the Central Bank set targets for the country's six main banks to tackle the growing mortgage arrears crisis.
It gave lenders until the end of this month to have proposed sustainable mortgage solutions for 20% of distressed borrowers.
According to the new figures, a total stock of 79, 689 private households were categorised as restructured at the end of March.
Sinn Féin social protection spokesman, Aengus Ó Snodaigh, said the Government government's policy is failing.
He said: "What is particularly worrying this time is that the government is attempting to remove what protections householders have. Their plan is only producing greater distress."