City road crews are working around the clock backfilling massive sinkholes left in the flood's wake. Torrential flooding that swallowed the city core is to blame for causing 70 crater-sized holes in roads and pathways, but just as quickly as crews can fill them, they're cropping up.
"Over the next few months we'll probably see recurring sinkholes in the downtown and Beltline area," said Bruce Burrell, director of the Calgary Emergency Management Agency.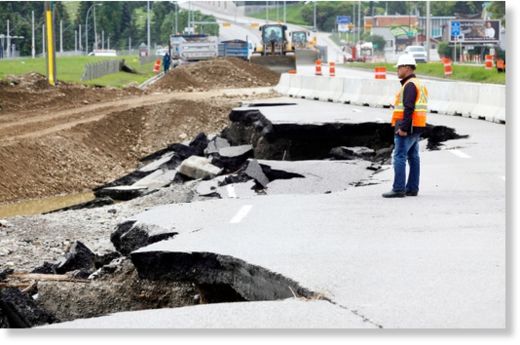 On Tuesday, crews repaired a large sinkhole on the 5th Avenue flyover that was caused by groundwater.
Eroding pathways and roads near the river are posing another potentially deadly hazard for those who may venture too close, Mayor Naheed Nenshi warned.
"We'll fix them when we find them, given the ground conditions there will be more," he said.
Each year, the city sees dozens of potholes but typically only about 10 sinkholes, caused by water washing away sand, rock and gravel under pavement, causing its collapse.
Officials say the deserted streets are actually aiding crews backfilling the sinkholes, as they don't have to shut down roads and control traffic.
But the work will keep cropping up through the summer, they warn.