The death toll from a series of bombings and a shooting across Iraq has risen to 51, with many more injured, Iraqi security and hospital sources say.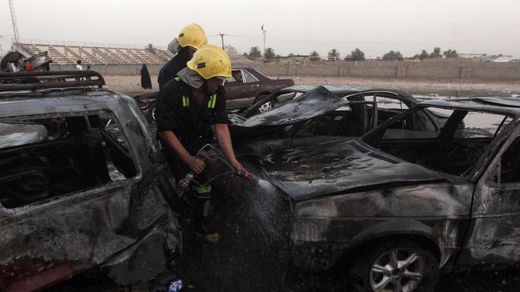 Sunday's blasts began with a parked car bomb which exploded in the city of Kut -- 60 kilometers southeast of Baghdad. Six people were killed and 15 others wounded in that attack, The Associated Press reported.
The attack was followed by another car bomb outside the city which targeted construction workers, killing five and wounded 12 others, police officials said.
One of the deadliest attacks took place in the Shia-populated neighborhood of al-Ameen in southeastern Baghdad. Police said a bomber blew himself up inside a cafe, killing at least 11 people and wounding 25 others.
A shooting also broke out near the northern city of Mosul, when a gunman attacked police guarding an oil pipeline. At least four people were killed and five others wounded in the incident.
Other attacks were carried out in the cities of Hillah, Madian, Aziziyah, Mahmudiyah, Nasiriyah, Tuz Khurmatu, Najaf, and Basra on Sunday. Reports said that most of the car bombs hit Shia-majority areas.
No group immediately claimed responsibility for the bombings, but al-Qaeda-linked militant groups, which seek to destabilize the central government of Iraq, frequently carry out such coordinated attacks.
There has recently been an upsurge in violence across Iraq, and the authorities say Qatar and Saudi Arabia have had a hand in some of the deadly incidents.
The United Nations says a total of
1,045 people were killed and nearly 2,400 were injured in violent incidents in Iraq in the month of May.
On May 30, UN Ambassador to Iraq Martin Kobler warned that "systemic violence is ready to explode at any moment."
He also urged Iraq's political leaders to "engage immediately to pull the country out of this mayhem."
Iraqi Prime Minister Nouri al-Maliki has said that militant groups and the remnants of the former Ba'athist regime are responsible for the latest wave of violence.