The Turkish riot police have attacked anti-government protesters in Istanbul's flashpoint Taksim Square, shortly after Prime Minister Recep Tayyip Erdogan ordered the demonstrators to evacuate the area.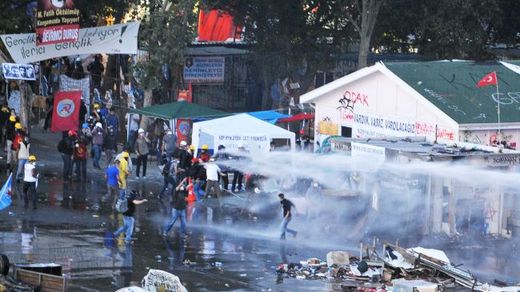 The forces stormed the protest camp in Gezi Park on Saturday, firing tear gas and using water cannons to disperse thousands of protesters defying the prime minister's order to leave.
They trampled tents, pulled down banners, and broke down barricades in the park. Afterwards, a city cleaning crew, backed by bulldozers, moved into the green patch and cleared the site.
Police pursued protestors as they ran in all directions including to a nearby hotel. Several protesters have been detained from the area or in house-to-house searches.
Several people also were wounded, some of them allegedly by rubber bullets.
Earlier in the day, Erdogan told the protesters that they would face the police if they did not leave Gezi Park.
"I say this very clearly: either Taksim Square is cleared, or if it isn't cleared, then the security forces of this country will know how to clear it," the Turkish prime minister said in a speech to his supporters in the Ankara suburb of Sincan.
A controversial redevelopment plan for the park has sparked two weeks of anti-government unrest.
The embattled premier said the demonstrations -- which have been the largest street protests during his 10 years in power -- were part of an organized plot against him.
But the protesters have vowed to continue their campaign until their demands are met and the detained people are released.
The Taksim Solidarity group said it is just the beginning and the protesters will continue "resistance in the face of any injustice and unfairness in Turkey."
Earlier, the government had made a concession, promising to suspend the planned redevelopment of Gezi Park until a referendum is held.