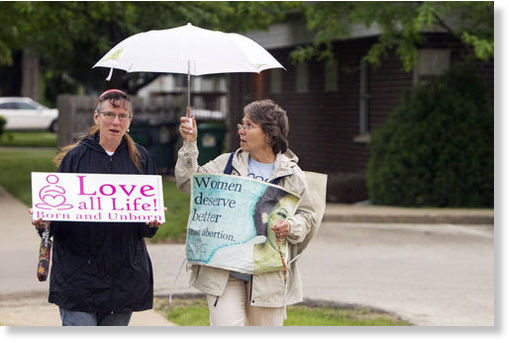 A group of anti-abortion activists in Iowa had to promise the Internal Revenue Service it wouldn't picket in front of Planned Parenthood.
Catherine Engelbrecht's family and business in Texas were audited by the government after her voting-rights group sought tax-exempt status from the IRS.
Retired military veteran Mark Drabik of Nebraska became active in and donated to conservative causes, then found the IRS challenging his church donations.
While the developing scandal over the targeting of conservatives by the tax agency has largely focused to date on its scrutiny of groups with words such as "tea party" or "patriot" in their names, these examples suggest the government was looking at a broader array of conservative groups and perhaps individuals. Their collective experiences at a minimum could spread skepticism about the fairness of a powerful agency that should be above reproach and at worst could point to a secret political vendetta within the government against conservatives.
The emerging stories from real people raise questions about whether the IRS scrutiny extended beyond applicants for tax-exempt status and whether individuals who donated to these tax-exempt organizations or to conservative causes also were targeted.
Former IRS leaders have apologized for inappropriate scrutiny of conservative organizations. They haven't to date, however, divulged who developed the criteria, how they were developed or when and how they extended to groups associated with conservative causes that didn't have "tea party," "patriot" or similar catchwords in their names.
Widening congressional investigations and federal lawsuits are likely to reveal more about the scope and intent of the inappropriate treatment of conservative groups by the IRS. The House Ways and Means Committee plans a hearing Tuesday to allow victims to testify for the first time. In earlier hearings, one IRS official pleaded the Fifth to avoid answering questions.
The Treasury Department inspector general who's probing IRS activities, J. Russell George, recently acknowledged that he's looking into other watch lists created by IRS employees. He said he was barred by law from disclosing anything more.
Sue Martinek of Cedar Rapids, Iowa, already knows what happened to her and others involved in the Coalition for Life of Iowa.
She first sought tax-exempt status for the group in 2008, maintaining contact by mail and phone with a woman identified only as Ms. Richards in the Cincinnati office of the IRS that's now at the center of the scandal.
Martinek said the woman never offered a first name. A woman's voice on a recording at her phone number doesn't give a name, and messages left by McClatchy brought no response.
Richards told Martinek by phone in early 2009 that the group's application had been approved, Martinek said. But Richards added a condition, according to Martinek. Board members first needed to sign a letter promising not to picket in front of Planned Parenthood offices, Martinek said.
"We were pretty surprised. But we had never gone through the process before," Martinek said. "I was sort of, 'If we have to, we have to, but this doesn't seem a good thing to do.' "
A board member suggested contacting the Thomas More Society, a public-interest group that provides free legal help on conservative hot-button issues. It saw the IRS request to the Iowa group as forcing the group to abandon its First Amendment rights.
"We're certainly not about protesting and picketing. That happens to be a small part of what we do. When we do go to Planned Parenthood, we're going there to pray," said Martinek, who said her group focused on educational forums and wasn't a conduit for funneling money to political campaigns.
Ironically, Planned Parenthood does enjoy the type of tax-exempt status that Martinek's group originally sought.
The story is similar for Christian Voices for Life of Fort Bend County, an anti-abortion group in suburban Houston.
The IRS asked it, too, about protest plans. The IRS also asked for copies of grants and contracts. "I was quite surprised to see that our application wasn't just immediately accepted," said Marie McCoy, the group's executive director.
In March 2011, an IRS employee in El Monte, Calif., asked in a grammatically challenged letter whether the group protested in front of medical facilities.
"In your educational program, do you education on both sides of the issues in your program?" IRS Exempt Organization Specialist Tyrone Thomas asked in the letter, a copy of which was provided by the Thomas More Society.
Thomas also asked, "do you try to block people to enter a building, e. medical clinic, or any other facility?"
The IRS hasn't said who originally authored or authorized any of the questions that it now says were part of inappropriate criteria applied to conservative groups.
"My first thought was that this particular agent was incompetent and didn't know the law," said McCoy, who described Thomas as polite but resolute. McClatchy tried to reach Thomas via the number on his correspondence, but no one answered the calls.
Engelbrecht, 43, can sympathize.
Concerned about government regulation of her family's manufacturing business, she became dissatisfied with the political process and particularly the 2008 presidential choices.
She discovered like-minded viewpoints and attended rallies, organizing a group called the King Street Patriots. It holds weekly meetings that include speakers on a range of topics, and it held a countywide candidates' forum last year.
After witnessing what she called voter irregularities in the Houston area, Engelbrecht formed a group called True the Vote. With a paid staff of five, it aims to educate 1 million poll workers nationwide on spotting election fraud. Liberal groups view it as a conservative effort aimed at restricting minority participation, a claim that True the Vote officials deny.
In summer 2010, the groups sought IRS tax-exempt status. Six months later, Engelbrecht and her husband faced their first-ever audit.
IRS agents "came to a small family farm, counted the cattle, looked at the fence line," she said.
The IRS continued to pepper True the Vote with questions, Engelbrecht said. In February 2012, the IRS sent the organization a 10-page letter with 39 questions including a request for "all of your activity on Facebook and Twitter." Last week, still without a decision, True the Vote filed suit in federal district court asking for tax-exempt status.
The experience of retired Army Lt. Col. Mark Drabik suggests a possible new dimension to the IRS story.
After retiring in 2009 from a distinguished military career, he took a civilian job at the Strategic Command in Omaha, Neb. For the first time in his adult life, he could express political beliefs openly. He frequently wrote to elected officials and participated in conservative marches in Washington, attending national tea party events and donating to conservative talk-show host Glenn Beck's 912 movement.
Then came an audit letter from the IRS.
The agency questioned him about church donations, deductions for family respite care - which provides caregivers with a brief rest - and his daughter's equine therapy, he said. A doctor prescribed the last two as necessary because of the stress of caring for Drabik's 19-year-old autistic son. The deductions had been claimed for almost a decade without IRS complaint.
Amid the IRS scandal, Drabik now wonders whether his support of conservative causes is to blame.
"I did contribute to them. I did participate in the marches. That's what worries me," said Drabik, 49, who's fighting the IRS over a sum in the ballpark of $20,000. After losing an IRS appeal, he was entitled to a second appeal, which to his great surprise went to the same person who handled his first.
The agency is prohibited from commenting on the cases of individuals.
For Drabik, a seed of doubt has been planted.
"I have to feel that that was a potential trigger" for the audit, he said, noting that the sum of his church donations and therapy deductions was pretty constant over almost a decade. "I am just a common citizen, who honorably served his nation for 23 years, who has not had this experience before and now honestly questions the actions and motivation of the IRS and how far they have gone in their actions."
Read more here: http://www.mcclatchydc.com/2013/05/30/192616/irs-may-have-targeted-conservatives.html#.UapaWJy8-Fc#storylink=cpy