It's beginning to look a lot like Christmas - so it's rather odd that we find ourselves in mid-May. Snow fell across parts of Britain last night while another area had a month's rain in just 24 hours as winds of up to 65mph battered the country's coastlines in unusual weather for the month. Up to 3in of snow fell in Princetown in Dartmoor, Devon, Rhayader in Powys, and Newcastle-on-Clun in Shropshire - while Pembrey, Carmarthenshire, had 3in of rain in the 24 hours until 7am today.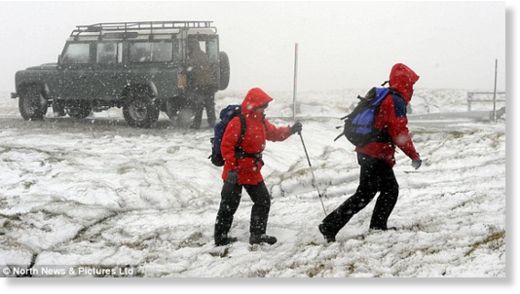 Local woman Sheila Coates told BBC Radio Devon: 'It's crazy. Last night I couldn't see out of my front window for the snow. I've lived here all my life, and I've never known weather like it at this time of year.' Up to 3in of snow also fell on high ground in the rural county of Shropshire last night - sparking fears of flooding in the rest of the region, as two local rivers were given flood warnings. Mike Steedman, owner of the Anchor Inn in the hills above Newcastle-on-Clun, near the Welsh border, said. 'It started at about 11pm and it came in wet and heavy.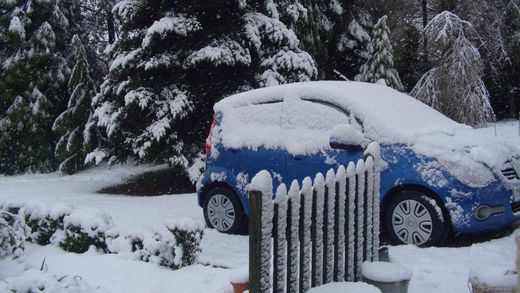 It's beginning to go now. And ramblers and cyclists got more than they bargained for when snow lashed the Pennines in Cumbria as sunny May weather suddenly turned into something you would expect in January. The southern coast was hit hardest last night with police in Devon and Cornwall reporting slates coming off roofs and trees blocking roads, as rain lashed across much of the country. In Devon and Cornwall hundreds of homes were left without electricity. Residents were also bracing themselves for floods - with 14 separate alerts in place across the two counties. The Isles of Scilly bore the brunt of the Atlantic gales but freak snow flurries were reported in Exmoor and Dartmoor, where residents said the conditions were more like mid-winter than May.
- Daily Mail