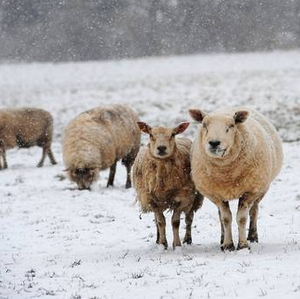 The carcasses of more than 3,000 farm animals which died when a blizzard engulfed Northern Ireland have so far been collected in a state funded disposal scheme.
The Stormont Executive agreed to pay for the recovery operation as part of a multimillion-pound aid package for the farmers worst hit by last month's snow storm.
While 3,120 dead livestock have been disposed of thus far, officials expect many more collections will be needed. The animals, mostly sheep, were entombed when
snowdrifts up to 20 feet high
blanketed many high-lying fields.
Agriculture Minister Michelle O'Neill announced progress in the collection as she visited one of the affected farms in Plumbridge, Co Tyrone. As well as free disposal, farmers who have lost animals will also be in line for a hardship payment from a £5 million-plus Executive emergency fund.
"To date 3,130 livestock have been collected across the affected areas," said Ms O'Neill. "This immediate work is very important for a range of animal health and environmental impact factors. Also, the final hardship package will be linked to verifiable losses.
"The department will get this necessary information as farmers have stock removed and disposed of by the approved renderers. We have made it clear that farmers in affected areas will have these collection and disposal costs met by the department."
The location of Ms O'Neill's visit was significant as some farmers in the Sperrins area of Tyrone had expressed concern over their eligibility for the free collection service.
The concerns were raised because their properties were not in post code zones published by the Department of Agriculture and Rural Development (DARD) - the majority of which were in counties Down and Antrim.
The minister moved to reassure all farmers that had lost livestock in the blizzard. "It is clear that there are smaller discrete areas in other locations in the north, such as the farm I am visiting today, where farmers have been equally affected by the snow storm," she said.
"Farmers who feel they should be eligible, but are not in the published postcode areas, should ring the DARD helpline 0300 200 7852 and provide information which would support their eligibility. This will be assessed from both other calls received on the helpline and from information provided by DARD staff on the ground responding to those calls."