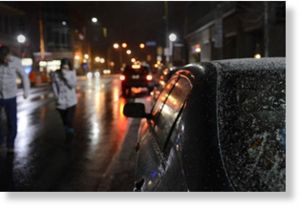 Winter-weary residents of southwestern Pennsylvania braced for yet another round of snow and ice - seriously, Mother Nature, again? - Sunday as a massive storm system swept in from the Midwest, dampening hopes that spring-like weather might finally be near. By Sunday night, the storm covered much of the eastern half of the country, from Iowa to the eastern seaboard and as far north and south as Michigan and Tennessee. Along its path across the upper Rockies and Midwest, the storm left as much as a foot of snow over the weekend, with wind gusts creating drifts of 2 to 3 feet in some states. Just 3 to 5 inches of snow was expected to accumulate across much of southwestern Pennsylvania overnight, with another 1 to 2 falling this morning, according to the National Weather Service in Moon.
Still, local road crews were leaving nothing to chance, said PennDOT spokesman Jim Struzzi in Pittsburgh. Crews spent Sunday evening pretreating roads with brine and mounting plows back onto trucks. By midnight, when the heaviest accumulation was expected to begin as the main body of the storm moved in from the southwest, the highway department planned to have 70 to 80 trucks out across Allegheny County, Mr. Struzzi said. "It will be our full fleet," he said. "We're ready for battle." Heavy snow was expected to continue through the pre-dawn hours, then lessen as the day progresses. The winter storm warning issued by the National Weather Service expires at 11 a.m. today. "The snowfall is going to be lighter, plus with the late March sun coming through the clouds and warming the ground, not much will accumulate after morning even if the snow lingers into the evening," said Brad Rehak, a meteorologist at the National Weather Service office in Moon.
Over the weekend, however, residents across much of the Midwest saw heavy snowfall and damaging winds that made the season seem like springtime in name only. The National Weather Service said parts of Colorado and northwest Kansas saw 10 to 15 inches of snow Saturday, and southwestern Nebraska had up to 7 inches. Winds gusting at speeds of up to 45 mph created snowdrifts of 2 to 3 feet in the three states, said Ryan Husted, a meteorologist with the National Weather Service in Goodland, Kan. The storm dumped 7 to 9 inches of snow from eastern Kansas into central Missouri before tapering off there Sunday morning, said Dan Hawblitzel, a meteorologist with the National Weather Service in suburban Kansas City.
In the mid-Missouri town of Columbia, TV station KOMU was briefly evacuated Sunday morning because of high winds and a heavy buildup of snow on the broadcast tower next to the building. Snow began to fall in earnest in St. Louis and western Illinois on Sunday morning. Parts of St. Louis saw nearly 9 inches, while a record snowfall of 9.6 inches was set at Columbia Regional Airport, breaking the old record of 6.1 inches set in 1912. The storm arrived in Indiana late Sunday afternoon and left 5.5 inches in Hancock County, east of Indianapolis, according to the weather service. Ohio was expected to see 5 to 9 inches Sunday night. Before it exits off the coast of New Jersey on Monday night, the storm could leave 1 to 3 inches in southern New York and New Jersey.
"It's definitely a wide-hitting system," Mr. Hawblitzel said. And don't put away the snow shovels, rock salt and wool mittens just yet, because it might not be the last snow of the season, said Mr. Rehak, the meteorologist in Moon. Four storms, he said, left more than six inches of snow in the Pittsburgh region later in the season than this: 12.7 inches April 3, 1901; 11.2 inches April 8, 1902; 8 inches March 30, 1883; and 7.7 inches April 3 and 4, 1987. "It's rare, but not impossible," he said.