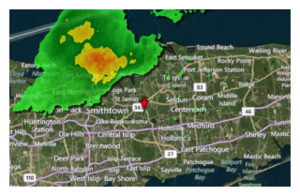 Emergency officials are looking into what could have caused a loud boom and flash of light around 9:45 p.m. Tuesday night. The mysterious event caused a flurry of comments on social media, including on the
SmithtownRadio.com Facebook page
.
SmithtownRadio.com calls into Suffolk police and other emergency officials all resulted in the same answer: no one is sure but the thought is the noise was a really loud clap of thunder with an associated lightning strike.
At 9:46 p.m., the National Weather Service issued a Special Weather Statement regarding a snow squall moving onshore near Northport. The squall - which is a quick-forming, storm cell much like a summertime pop-up thunderstorm - was expected to impact shoreline communities stretching eastward towards Port Jefferson Station. SmithtownRadio.com has received listener comments indicating the noise was heard from Kings Park to Nesconset and into Centereach.
Meteorologist Mike Leona, who is the Long Island Weather Examiner for examiner.com,
posted on his Facebook page
that he thought the mysterious noise was likely thunder - but he too could not say fore sure. In his post, he said lightning detectors at Sikorsky Airport in Bridgeport and Republic Airport in Farmingdale both detected activity in the area of the squall line.