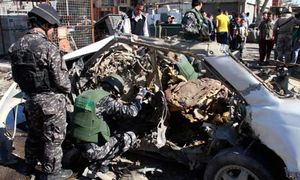 Baghdad was convulsed by a deadly wave of explosions as terrorists detonated up to nine explosions in the course of a few hours over the morning on the 10th anniversary of the US-led invasion.
Early reports suggested that at least 34 people were killed and dozens more wounded as car bombs hit Shia areas, including a mosque and a restaurant across the city.
At the Ministry of the Interior in central Baghdad, the
Guardian
heard one explosion in the distance, followed by a rising plume of smoke. Helicopters could be seen hovering above the scene.
An hour later, in another part of the city, a second blast was audible and another column of smoke a half a mile or so away, this time from an attack in Karrada,.
The first bombing took place near a small restaurant in Baghdad's Mashtal neighbourhood, killing four people and wounding 15 at 8am.
Minutes later, two day labourers were killed and eight were wounded when a roadside bomb targeted where they gather each day in an area of New Baghdad.
One eyewitness to the first bombing, who had just arrived at work at 8am, told the
Guardian
: "It was a huge explosion at the junction close to where my office was close to a restaurant. I heard the bomb go off in an area which is crowded at this time of day."
The attacks on the 10th anniversary of the first airstrikes of the Iraq war, on 19 March 2003 which targeted the Dora Farms where it was thought Saddam Hussein was visiting, have sharply underlined the still bitter sectarian tensions in Iraq.
Ten years ago on Tuesday, also marked President George W Bush's announcement in the US of the start of the invasion, with troops crossing the border with Kuwait in force the following day.
The morning blast hit largely Shia areas where people were gathering for work or start the day, including small restaurants and bus stops in the Iraqi capital. At least six attacks occurred within a one-hour period.
Although the anniversary of the fall of Saddam is marked by the government,
the day of the invasion is generally ignored by Iraqis, many of whom regard it as the beginning of an occupation which prompted the "sectarian war" which pitted Sunni against Shia for five years of brutal bloodletting.
While there was no immediate claim of responsibility, the attacks bore hallmarks of al-Qaida in Iraq.
Comment:
The reason why they make just a passing reference to 'al Qaeda' being responsible is because the CIA is trying to manage a fine propaganda balance between demonstrating its support for 'al Qaeda in Syria' and its 'war' against 'al Qaeda in Iraq'.
The CIA Takes Opposite Sides in Syria and Iraq
While violence in Iraq has dropped in recent years since the end of the sectarian war in 2008, tensions have been rising again in the country, fanned by Sunni protests over equal rights and human rights abuses in northern and western provinces, in particular in Fallujah.
Analysts have blamed the slow response of the Shia-dominated Iraqi government to the protests for a resurgence in al-Qaida in Iraq which, some claim, has driven new terror recruits.

Comment: Translated into normal-speak: the bombing campaign against civilians has been ramped up because the Iraqis are revolting against their American client-regime.


In the sprawling Shia suburb of Sadr City, a sticky bomb placed under a minibus killed three commuters and wounded seven people, while another car bomb exploded in a commercial street in the same Shia area, killing two and wounding 11.
In the north-eastern suburbs of Baghdad, four people were killed and 11 others wounded after a car bomb went off near a small restaurant in Hussainiyah neighbourhood.
In Zafarniyah, two car bombs exploded near a police station, killing five people, including a policeman and wounding 27, said police. In northern Baghdad, a car bomb went off near a bus stop, killing three people and wounding 13.
In central Baghdad, a car bomb exploded near a restaurant not far away from the well-protected green zone, killing six people, including two soldiers and wounding more than 15. In Shulla, a car bomb exploded near an outdoor market, killing five people and wounding 21.