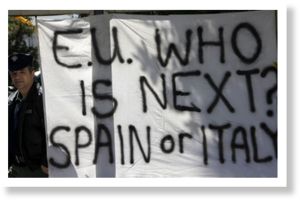 Pictures of long lines of angry Cypriots trying to pull money out of empty ATMs made the rounds on Monday, as the world woke up to a decision by the Troika and President Anastasiades to impose haircuts on the nation's depositors. While Cypriot savers and opposition politicians protested the one-time levy, the unprecedented move appears focused on
Cyprus
' large foreign depositor base, particularly Russian citizens and banks, which account for approximately 22% of total deposits, which are nearly four times larger than the island-nation's yearly GDP.
Global markets were shaken out of complacency on Monday as a new episode in the European sovereign debt crisis took a hit at confidence and the reigning positive risk-sentiment of the past few weeks. News broke over the weekend that the Troika (European Central Bank, the European Commission, and the IMF) told Cyprus to raise €5.8 billion ($7.5 billion) of the total €10 billion ($13 billion) bailout that will be used to recapitalize their embattled banks from depositors. Cypriot citizens, who hurried to ATMs only to see them fully drawn out as the expected bank run materialized, were enraged. So was
Vladimir Putin
.
The Troika is singling Cyprus out, forcing it to impose a substantial haircut on creditors that will clearly hit the savings of the nation's citizens. But the Cypriot financial system is very particular, with nearly €70 billion ($91 billion) in deposits, or about 380% of GDP. About 37% of deposits are owned by foreigners, according to
Barclays
, and nearly 60% of that belongs to Russians, as numbers compiled by
Danske Bank
(and published by
FT Alphaville
) indicate.
Cyprus' lax anti-money laundering laws and favorable tax treatment has made it a safe haven for rich Russians looking to stash their money cheaply. In other words, the Troika is punishing Cypriot savers with the one-time tax, but they are also telling the Russians to pay up.
Total deposits in Cyprus stood around €68.4 billion ($89 billion) in January, according to Barclays; about €19 billion ($25 billion) of those were Russian owned, Danske Bank showed. With the cost of recapitalizing banks at about 60% of GDP, there was no way Cyprus could afford that, as debt-to-GDP levels would surge from 86% currently to 145%. If, instead of a bail in, the Troika would've opted for a haircut on sovereign debt (remember the PSI in
Greece
?), it would've hurt the banks' balance sheets even more, as they are the major holders of public sector debt.
Putin, who called the haircuts "unfair, unprofessional, and dangerous," also knows Russian banks will take a hit from the Cyprus debacle. "Cypriot companies with Russian capital could lead to about USD53bn in losses to Russia's banking giants such as Alfa bank, Gazprombank, Sberbank and VTB, which has a wealth management division on the island," Danske Bank's Vladimir Miklashevsky explained.
Russia had already agreed to a €2.5 billion ($3.2 billion) loan to Cyprus, with Moscow turning down a request for a further €5 billion ($6.5 billion), pointing to the EU as responsible for their own financial mess. The Troika may be putting the pressure on Moscow to pay up.
Cyprus is a small nation but news of bank runs at Bank of Cyprus and Laiki Bank spread like wildfire, bringing down global markets. Major European banks like Deutsche Bank, Credit Suisse, and Santander fell hard, while American counterparts including JPMorgan Chase, Citigroup, Goldman Sachs, and Morgan Stanley were trading in the red; gold, by mid-day in New York, was making its way higher.
The situation in Cyprus is very fluid, with general rejection of the measure. A vote is expected on Tuesday, while a banking holiday was reportedly extended until Thursday. A failure to pass the measure could bring back fears of a Eurozone exit. European markets, particularly bond markets, are more resilient than a few years ago, making it unlikely that flows out of Cyprus, which can be expected in the €3 to €4 billion ($3.9 to $5.2 billion) range according to Nomura, will unsettle the ailing economies of Spain, Italy, Portugal, and Greece.
The risk of contagion is limited, with a possible Cyprian EMU exit as the major tectonic move in the horizon, then. The Cyprian people will take a hit, as have the populations of every country that had to be bailed out in this never-ending European sovereign debt crisis. And so will Russia, which is tied to this mess because of their use of Cyprus as an offshore financial center. With the battle lines set in the sand, it will be Moscow, and Cyprian President Anastasiades that call the next shot.