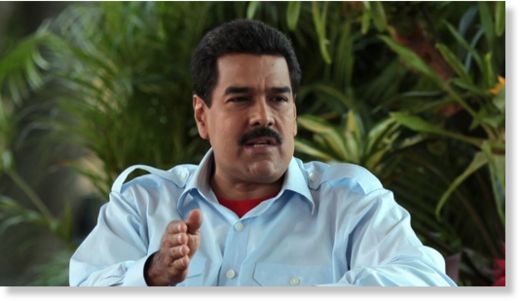 In a military museum in Caracas, adorned in the trappings of national mourning, the focus is on grieving for the man who ruled Venezuela for 14 years. But the void left by the death of Hugo Chavez is being filled with polemic and posturing.
Acting President Nicolas Maduro has made fresh claims about an alleged US plot to assassinate one of the candidates in the country's April presidential election - right wing opposition leader Henrique Capriles - and then to put the blame on the Venezuelan government.
"I'm addressing President Obama and (former Bush administration officials) Roger Noriega and Otto Reich, Pentagon officials and the CIA. They are behind a plan to kill the presidential candidate of the Venezuelan right wing, to create chaos in Venezuela," said Maduro. The 50-year-old former bus driver and trade unionist is the favourite to win April's election - two opinion polls before Chavez's death gave him double-digit lead - and he is expected to benefit from the emotion surrounding the passing of Chavez, who gave Maduro his explicit support before he died.
The United States has "categorically" rejected Maduro's accusation.
Capriles kicked off his campaign this weekend with several large rallies in the provinces. In the light of the alleged assassination plot, acting president Nicolas Maduro said the government had offered to provide security for Capriles ahead of the ballot scheduled for April 14. Capriles has said that if he were the victim of an assassination attempt, Maduro would be to blame.