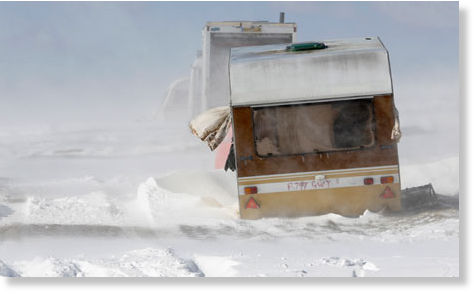 The last of hundreds of tired and cold drivers were rescued from stranded cars on Tuesday after winter's late revival brought chaos to both sides of the Channel.
Major roads were blocked in southern England, northern France and Belgium, and Eurostar trains were halted by bad weather on the European mainland.
A man was taken in a critically ill condition to St George's hospital in Tooting, south London, after being hit by a telegraph pole that fell in high winds. The 27-year-old suffered head injuries and a cardiac arrest.
Two other people were freed with minor injuries from the debris of fallen trees, and a 19-year-old woman was treated for head injuries after a three-car pile-up on the M23 in Sussex. There were 771 road accidents, but no fatal injuries, in the county, which took the brunt of blizzards with neighbouring Kent on Monday night.
Skidding and sliding vehicles were central to hundreds of blockages in the two counties, where queues of jammed traffic stretched up to 30 miles and motorists suffered delays of more than 10 hours. Local council and Highways Agency gritters and snow ploughs were unable to reach many areas because of stranded cars and lorries. Stretches of road that had been cleared very quickly vanished under snow again as the blizzards kept coming.
Snow problems stretched as far north as Cumbria and down into south Wales and Somerset, but much of the country enjoyed bright sunshine, albeit with very low temperatures. The freeze is expected to ease gradually on Wednesday and towards the end of the week, but the country remains sandwiched by yellow "be aware" weather warnings from the Meteorological Office up the east and west coasts.
Southern trains made short-notice cancellations for much of the day, playing havoc with commuter schedules, and the busy London-Brighton line was down to an hourly service for much of the day.
Failed attempts by the Irish Ferries vessel Oscar Wilde to dock at Cherbourg, France, ended with the ship riding out the night offshore with 500 passengers on board. Further delays followed when hydraulic locks on the bow doors failed and the ferry was unable to sail back out and come in stern-first because of high seas. Passengers were consoled for having to stay on board by warnings that roads round the French port were in the grip of snow and dangerously icy conditions.
Air travel was also disrupted, with Frankfurt airport closing its runways for a time and serious disruption at Charles de Gaulle and Orly in Paris.
Gatwick warned travellers to allow extra time and Jersey airport was shut on the Channel Islands, which have had their worst March weather for two decades.
Volunteers were praised for rallying to the aid of stranded drivers in Kent and Sussex, with farmers and builders mobilising tractors and diggers to clear minor roads and 30 members of a Plymouth Brethren church working shifts with seven 4x4s to bring medical supplies, hot drinks and reassurance to travellers stuck on the A23.
Police community support officer Christopher Kingswood, a former soldier, had to use his survival training when he became stranded himself after hours of helping drivers. He managed to sleep in a cramped police box, curled up but still squashed between its sides.
The biggest daffodil festival in the UK, held every March at Thriplow in Hertfordshire, will go ahead this weekend, 16-17 March, but with earlier spring flowers replacing the daffs. Next year's event will be held later in the year, after four meagre crops in succession, following cold winters.
Cornwall's Eden Project, safe under its vast glass dome, reported a boom in visitors fed up with the great outdoors and pleased to see 43 varieties of tulips blooming in their prime.