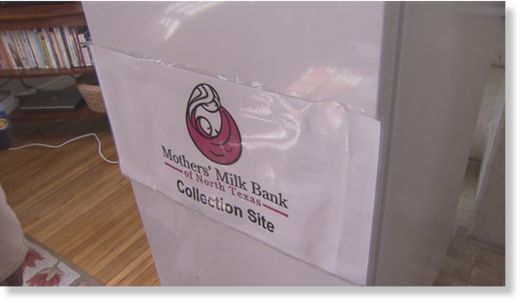 Florida's first breast milk collection center opened in Miami on Tuesday.
Dozens of parents and their children attended the ribbon cutting ceremony at
The Gathering Place
, a pregnancy, childbirth, and parenting resource center located at 5810 Biscayne Boulevard in Miami's Morningside neighborhood.
Organizers showed off a
freezer holding 500 ounces of breast milk
provided by Ana Rodriguez, the first donor to the non-profit center.
"I produce more than my baby can consume," said Rodriguez. "This is milk that I've pumped, basically, at work. It's a lot of work pumping so it's good that it's going to a good cause."
The center collects breast milk for the
Mothers' Milk Bank of North Texas
. The collected breast milk is shipped to Texas, where it's screened and pasteurized before it's donated to infants prescribed breast milk instead of formula.
"They can drop it off here and when our freezer is full, we have volunteers who pack it up and ship it," said Michelle Fonte, the owner of The Gathering Place.
A spokeswoman for the Mother's Milk Bank of North Texas said pasteurization extends the shelf life from that point up to a year.
There are 11 collection centers for Mothers' Milk Bank of North Texas nationwide. They donate the breast milk to hospitals and neonatal intensive care unit for infants who are prescribed breast milk instead of formula.
"All babies benefit from their own mother's milk but for some babies, it's a medical necessity to have human milk," said lactation consultant Mirine Dye.
The collection centers accept breast milk that has been pumped in the last three to six months.


Source: Post Newsweek