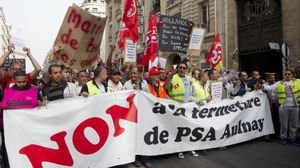 The French auto giant PSA Peugeot Citroen has announced a net loss of five billion euros (USD 6.7 billion) in 2012, making it the worst result in its history.
The carmaker released on Wednesday the historic loss, blaming 4.74 billion euro in asset write-downs and a collapse in European sales for the results.
The automaker is reportedly losing seven million euros every day. This is while the company has reported a 588 million-euro profit in 2011.
In an attempt to recover, the PSA previously announced that the company plans to eliminate 11,200 jobs and close its Aulnay plant in north of Paris. This has sparked several demonstrations by the workers.
The company's troubles deepened after a decision was made in 2012 to suspend business with Iran under US pressures, which resulted in a sudden shrink in a large part of its market.
With its more than 200,000 workers, French automotive sector is strategic for the country.
Since the economic downturn in Europe in 2008, French carmakers have tried to solve their problems with plummeting car sales through slashing capacity and cutting costs. The European car market is at an almost two-decade low and set to shrink for a sixth consecutive year.