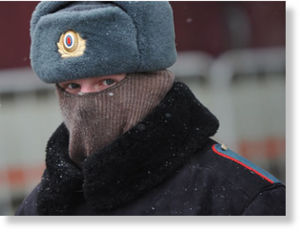 After losing his fingers as a result of twelve hours spent in subzero temperatures, a disabled man has died from a blood clot in a Russian hospital. A policeman who refused to fulfill his duty by helping the man is now facing five years behind bars.
The incident happened late last year when 28-year-old speech impaired Vitaliy Seduhinsky was boarding a bus with his mother when the doors shut before she could get on.
Unable to communicate, Seduhinsky spent some time circling the bus route before being let off at a suburban stop in the city of Barnaul.
Lost and confused, he was spotted by a woman who called the police to help the stranded individual. The officer who responded to the call failed to carry out his duty, simply decideding not to investigate the report any further.
As a result, Seduhinsky spent over twelve hours in temperatures of minus forty degrees Celsius. On December 10, the man was admitted to hospital where his fingers were amputated due to severe freeze burns. On January 8 Seduhinsky was killed by a blood clot in his brain.
Because of the policeman's failure to follow up on the emergency phone call, he has been charged with negligence that resulted in the harm and death of one or more human beings under the criminal code article 125, with a maximum sentence of five years.
Police have earlier defended their actions saying that such calls - like the one received on the night of December 10 from the woman who found Seduhinsky - are statistically proven to be prank calls. Allegedly the reason why the officer decided not to act. Further investigation is underway.
Detectives are also looking into the failure of another police department in the city of Barnaul, linked to the same case. Immediately after her son boarded the bus, his mother, who was unable to get onboard, tried filing a missing persons report. It's alleged that the police force ignored the request to search for the disabled man, saying that the case had no criminal basis.
Authorities are also trying to establish exactly which bus crew was responsible for letting the disabled man off the vehicle in sub-freezing conditions.