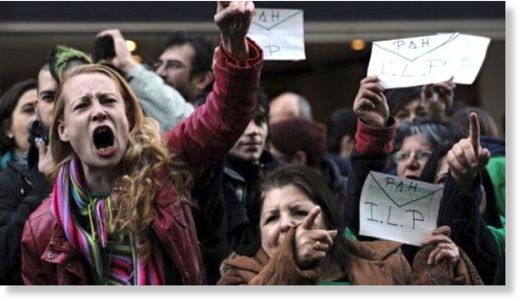 A retired couple in Spain killed themselves Tuesday because they faced eviction, police said, as lawmakers considered legislation to save ruined homeowners from being thrown into the street.
In the latest in a series of suicides reportedly linked to evictions, the couple, aged 68 and 69, killed themselves in their home in Calvia on the island of Mallorca, a police spokesman who asked not to be named told AFP.
Hours later in Madrid, members of parliament agreed to debate a citizens' motion to protect poor homeowners from eviction - a fate faced by hundreds of thousands in Spain.
The lower house of parliament agreed to debate the bill after lawmakers of the ruling conservative Popular Party threw their weight behind it despite earlier resistance, the party's parliamentary spokesman Alfonso Alonso said.
In response to popular protests and reported suicides, Spain's government in November passed a two-year moratorium on evictions - but campaigners insist that it go further.
The bill proposes to change the law to end evictions and to allow insolvent homeowners to write off their debts by surrendering their home.
Under the current law, a bank can pursue a mortgage holder for the remaining balance of a loan if the value of the seized property isn't sufficient.
The new bill was brought to parliament by PAH, a popular campaign for housing rights that gathered 1.4 million signatures on a petition demanding that it be debated by lawmakers.
"People who undergo eviction not only lose their homes but get saddled with a large part of the debt, condemned for life to be excluded from credit," the petition read.
The police spokesman said the couple in Mallorca "left a suicide note" saying they committed suicide because they could not pay their debts and were soon going to be evicted.
PAH says hundreds of thousands of people face eviction in the crisis brought on by the collapse of Spain's housing market in 2008.
The resulting recession has driven the unemployment rate up to 26 percent, leaving many unable to pay mortgages on houses that are often now worth much less than purchased.
The PAH has campaigned by turning up in crowds outside the homes of evictees and sitting on their doorsteps to try to stop police and bailiffs from carrying out the eviction orders.
Dozens of protesters rallied outside parliament on Tuesday as lawmakers prepared to vote on whether to accept the bill.
A handful of PAH supporters were expelled from the gallery of the chamber when they burst out shouting after the Popular Party announced its backing for the bill.
"Yes we can!" they yelled.
Others also demonstrated outside the Popular Party's headquarters in Barcelona.
They waved signs condemning evictions and the banks that many blame for the crisis.
"Stop finance genocide," read a yellow sign held by protestors in Barcelona.
"These are not evictions," yelled the protestors in Madrid. "They are murders."
Source: Agence France-Presse