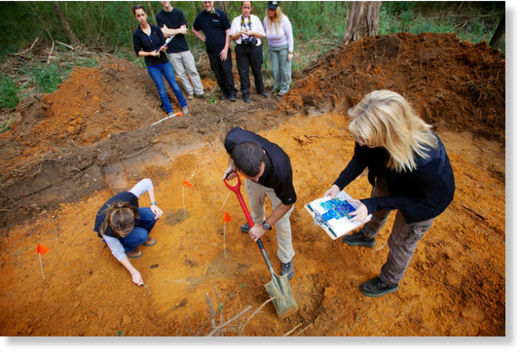 Nobody is quite sure how many boys' bodies lie beneath the grounds of the notorious Arthur G. Dozier School for Boys, or which one is Thomas or Owen or Robert.
Nobody is quite sure how most of them died - the cause is often listed as "unknown" or "accident" - or why a great number were buried with such haste.
The scattered graves bear no markings: no names, no loving sentiment. The only hint of a cemetery are the white crosses that the state planted in the 1990s, belatedly and haphazardly.
From the time it opened in 1900, as the state's first home for wayward children, until it closed in 2011, as a residential center for high-risk youths, Dozier became synonymous with beatings, abuse, forced labor, neglect and, in some cases, death. It survived Congressional hearings, state hearings and state investigations. Each one turned the spotlight on horrific conditions, and little changed.
But now, spurred on by families of the dead boys and scores of former students - now old men - forensic anthropologists from the University of South Florida have spent the last year using sophisticated radar equipment to search for answers beneath the 1,400-acre campus.
Decades after some of the worst abuses, former students have come forward to talk of brutal and repeated beatings; the families of some of the dead want dignity for those they lost. The crosses, they say, are an afterthought. They want to know more: where the children are buried and how they died, and whether the deaths were accidental, intentional or simply the result of illness. And they want the bodies brought home.
"What happened, happened, and I am willing to forgive," said Glen Varnadoe, whose Uncle Thomas was sent to the school in 1934 after he was accused - falsely, the family says - of stealing a typewriter from a neighbor's yard in Brooksville. Thomas was declared dead of pneumonia a month later. "But I want my uncle's remains, and I want to return him to his rightful place, next to his mother," he said. "He was 13. He didn't do anything but walk across a backyard."
The anthropology team has focused largely on Boot Hill, which during the segregation era was a documented cemetery on the African-American side of campus. So far, the team has located 50 grave shafts there, 19 more than a 2009 Florida Department of Law Enforcement investigation said existed. And with the help of school, state and historical records, they have counted at least 98 deaths dating from 1913 to 1960.
Their search was stymied last year when the state tried to sell the property. But a court order halted that. The team now has permission from the state to keep searching.
"With the possibility of additional graves on the Dozier School property, I asked that the Department of Environmental Protection refrain from selling the land to allow for further research into this very disturbing matter," said Attorney General Pam Bondi.
Dr. Erin Kimmerle, who is leading the team, said she believed that more boys were probably buried at the school. It is highly unlikely, she said, that black and white children at the school, in northern Florida, would have been laid to rest in the same cemetery before desegregation, which means that white boys, like Thomas Varnadoe, may be buried elsewhere. Documents and witnesses make mention of other burial spots, but none are directly identified.
Some families of the dead want their boys found, exhumed and brought home. The state and the district medical examiner's office, which can exhume decades-old bodies if the deaths appear suspicious, are still considering whether to grant permission.
"Where there is smoke, there is fire," Senator Bill Nelson, a Florida Democrat who also urged the Justice Department to get involved, said at a recent news conference with two families. "I want them exhumed. I want them examined. I want to see if potential crimes were committed."
Getting to the children, and perhaps the truth of what occurred, has been a hard-fought battle, mostly because decades-old records are contradictory and incomplete.
"This is what is important: to get some closure in our lives," said Ovell Krell, 84, whose brother is said to be buried there. In 1941, school officials told her parents that Owen, who was sent to the school for stealing a car, had run away. He was later found dead under a house on a January night, apparently from pneumonia. The family wondered: why would a 14-year-old boy not seek help for days if he was dying of pneumonia?
By the time his parents learned of his death and drove hours to the school, Owen was in the ground. With little money or know-how to do battle, the family simply went home. Their mother never recovered, Mrs. Krell said. Most nights, she sat on the porch, listening for Owen's whistle.
"If my mother could have been sure that was Owen in that grave, she might have come to terms with it," Mrs. Krell said. "It was the not knowing. This is the thing that eats people up inside."
Almost from the moment it opened as the Florida State Reform School, there was a steady stream of reports of abuse, indentured servitude, crowding and neglect. So many children - among them incorrigibles and runaways - were sent to the institution that it became the largest in the country.
Accounts surfaced early on of children as young as 6 chained to walls. Fierce whippings were common. Children were forced to pick crops, make bricks and print paper, all to profit the prison and other businesses, records show. A fire in 1914 killed eight boys who had been locked in a room. Flu epidemics killed others. Some runaways were shot.
The beatings continued well into the 1960s. When Gov. Claude Kirk made a surprise visit in 1968 to inspect the decrepit school, he said, "If one of your kids were kept in such circumstances, you'd be up there with rifles."
Even when the beatings stopped, abuse continued. The "whips and chains" mentality of the staff, as a former student called it, was deep-rooted. In the 1980s, children at the school said they were hogtied and put in isolation. This led to a 1983 class-action suit, which the state settled. Yet problems persisted.
A highly critical 2011 Justice Department report called the mistreatment of children at the school "systemic, egregious and dangerous." The school was closed that year for cost-cutting.
In 2008, a group of men who attended the school in the 1950s and '60s began to tell harrowing stories to The Miami Herald and The St. Petersburg Times. They called themselves "The White House Boys," a nod to the small cinder-block building where they say they were viciously flogged for the slightest infraction. The men who say they were abused now number about 300.
Robert Straley, 66, who arrived in 1963, soon after he was caught riding in a car a friend had stolen, said he was beaten his first day. Echoing the stories of the other White House Boys, Mr. Straley said he was taken to the house and was told to lie stomach down on a blood-specked mattress and hold tight to the head rail.
A one-armed guard pummeled him with a leather strap lined with sheet metal, he said. Forty blows tore up his bottom, leaving him bloodied and terrified. Other boys sometimes received as many as 100 blows, he said. An oversize industrial fan roared outside to drown out the sound.
"I thought he was hitting me with a two-by-four," Mr. Straley said. He was told: " 'You could bite the pillow.' You weren't supposed to let go. If you did, they would start over. You were allowed to cry but not scream."
In 2008, Gov. Charlie Crist ordered a state investigation. The inquiry, which acknowledged that it relied in part on incomplete school records, found only 31 grave sites and did not substantiate or refute claims of abuse. It concluded that the 31 deaths were attributable to known causes. The families called it a whitewash. The Florida Department of Law Enforcement defended its report in December, when researchers found more graves.
Now Dr. Kimmerle and her team have brought new hope that the children may finally be honored. "They want the boys brought home," said Dr. Kimmerle, who has helped locate graves all over the world. "These were not throwaway children."