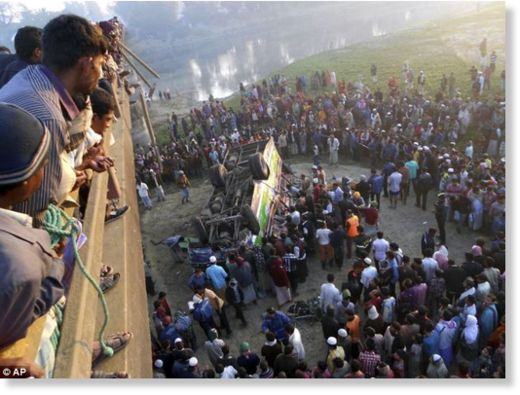 A bus packed with Muslim pilgrims plunged off a bridge into a muddy ditch early Monday in Bangladesh, killing at least 16 people, police said.
The bodies recovered from the bus included children, said local police officer Ranjit Kumar Barua. Rescuers took another 15 people who were injured to a hospital, and the rest of the occupants were not hurt.
The accident happened in Cox's Bazar district, 296 kilometers (185 miles) south of Bangladesh's capital, Dhaka.
Barua said the bus was carrying 43 people returning from a shrine of a local Muslim saint Mujibur Rahman Maizbhandari.
Road accidents kill about 10,000 people every year in Bangladesh, the government says. Crashes often are blamed on rash driving and faulty vehicles.