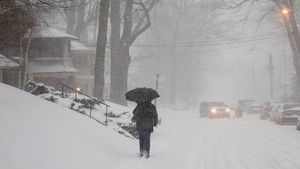 The worst of a winter storm into southern Ontario landed during morning rush hour, covering the region in a white shroud of snow flurries and sleet, forcing schools to close and disrupting land and air traffic. (For a list of school closures, transit delays and flight information,
click here.
)
Other vehicles were reported to be stuck in snowbanks, in ditches or blocking lanes after spinning out of control. At the Bayview entrance of the southbound Don Valley Parkway, cars had trouble negotiating the icy in-ramp. The DVP's Bayview off-ramp was reported to be closed because of slippery conditions. On Highway 401, the eastbound collector off-ramp at Allen Road was also closed because of the road conditions.
On the Queen Elizabeth Way, near Fort Erie, a snowplow fell into a ditch and, a few kilometres further north, a salter truck had rolled.
More than 150 highway car collisions had been reported
, said Ontario Provincial Police Sergeant Dave Woodford.
There were only minor injuries, mostly from fender benders, he said.
The Canadian Automobile Association was expecting to get twice as many calls for assistance.
By 9 a.m. more than 900 motorists had called for help
, mostly for towing, with wait times of over an hour, according to CAA South Central Ontario.
The inclement weather forced the cancellation of more than 240 flights today and 35 tomorrow at Pearson International Airport, with about another 40 cancelled at Billy Bishop Toronto City Airport. In the United States, airlines scrapped about 3,800 flights
, Bloomberg news agency said.
Pearson has posted a travel advisory on
its website,
urging passengers to check flight information before heading for the airport.
GO Trains moved on a storm adjusted schedule, with express trains stopping at all stations.
In downtown Toronto, while pedestrians hunched down, the rim of their hoods crusted with frost, traffic was slowed by snow-laden wind gusts and thick slush on the ground.
Constable Clint Stibbe of the Toronto police traffic services division said there were fewer vehicles in the downtown core "but with the restricted lanes, the congestion is just as high if not worse."
Since the snow began falling Thursday evening, there had been 136 reported collisions, twice the usual rate, with 42 minor injuries.
One bus line, 63 Ossington, had to be diverted because of fallen wires, another, 29 Dufferin, because of a disabled bus. Another bus lines were diverted because of poor road conditions.
Thousands of students got the day off.
Some school boards - including Toronto, Durham and York districts and Toronto and York Catholic districts - remained opened but cancelled school bus transportation. Others - Peel and Halton and Halton Catholic districts - closed schools all together,
Several universities also closed: York, Ryerson, University of Toronto's Mississauga and Scarborough campuses, McMaster, Guelph, Waterloo, Brock and Wilfrid Laurier.
The poor conditions stemmed from a massive low-pressure system that came from Texas, passed through Illinois and was expected to leave up to 25 centimetres of snow on southern Ontario.
Toronto gets an average of 115 centimetres of snow each winter. However only 42 centimetres fell last winter and before this storm, there had only been 31 centimetres of snow this winter.
While the storm was expected to affect a large swath of Ontario, from Sarnia to Cornwall, it was an opportunity for the rest of the nation to mock its largest city, as Twitter filled up with jokes about Toronto having to call in the army.
Meanwhile, in Vaughan, tempers were running short at city hall. Someone using the city's Twitter account posted a rude complaint about residents leaving their vehicles on snow-crowded streets.
"Who are these [expletive] who don't put their cars in the garage when we get 2 feet of snow? #dumb," said the tweet.
Vaughan's Twitter feed first issued an apology, then was temporarily shut down so the city could "look into the cause of this tweet, including the possibility of the account being hacked."