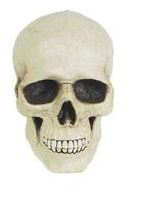 Classes ended prematurely at a Corporate Area high school last Thursday following reports that there were demons at the institution, one of which possessed a female student.
The Star
understands that the demon revealed himself and discouraged other students from praying for the possessed girl warning them that if they disobeyed he would leave the girl's body and enter theirs instead.
It was also understood that fear hung over the institution forcing the school's administration to seek the assistance of a special prayer team that specialises in demon possession. The prayer team is from a nearby church.
When the team arrived, they were reportedly greeted by a group of Baptist pastors who were eager to lend their assistance to rid the school of the demons.
Subsequently, the school's administration summoned students to a general prayer assembly feeling confident that the scare had ended but they were in for a surprise.
Bird's head
"The pastors said dem feel the evil spirit all over the school so they called the school population to an assembly. In the middle of assembly, suddenly out of the ceiling, a bird's head, cut off from the bird, drop down in the middle of the assembly. It was chaos after that," a source who witnessed the incident said.
The school's vice-principal was reluctant to elaborate on what transpired at the school on the day of the incident and downplayed it as something minor.
"That's something at the school. I'm not going to disclose what took place. Whatever took place was not something drastic. Whoever told you should have given all the details," she said.
When further pressed in an attempt to determine the credence of the allegations, she remained tight-lipped saying only, " I don't have anything to say about that ".