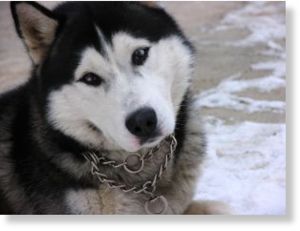 In the midst of the 2012 holidays, a clever and tenacious Siberian Husky in London, Ontario gave his fellow four-legged friends the gift of safety and freedom.
13-year-old Kiki had been muzzled by his owners and left in an abandoned moving van along with two cats and two other dogs. Despite having his ability to bark suppressed by the muzzle, he remained determined to find a way to call for help: he honked the vehicle's horn repeatedly until members of the London Police Department arrived.
London Human Society
Executive Director Judy Foster
told the London Free Press
she thinks it's possible Kikki acquired the knowledge that save her by watching humans. "Dogs are very smart; they watch us all the time."
Kiki's desperate plea for help finally caught the attention of a concerned citizen on Monday, December 10. Members of the London Police Department found the moving van in a crowded parking lot with its horn still blaring and Kiki in the driver's seat. Upon investigating the vehicle, the officers discovered two dogs, "Buddy" and "Six Toes," as well as two cats.
"It was evident that they required medical attention,"
said London Police Constable Ken Steeves
.
The pet owners, Donna Hebert and Allan Folkins-Wyre,
have been charged with five counts of cruelt
y to animals. If convicted, they face possible fines of up to $10,000 or as much as 18 months in prison.
Officials have estimated that Kiki and his friends had likely been left in the moving van for a week. Foster is certain the five animals would not have survived for much longer if it weren't for Kiki's efforts.
"We've received numerous calls from people asking us to find a hero award for this dog," Foster told
Today.com
.