The combination of a stormy wind (100 km/h), the huge and intense snowfall and the fact that warmer air is coming in this afternoon is causing a very critical situation. Around 200 centimeters came down since Sunday and you can expect another 40-70 centimeters today.
Closed Roads
Some roads to the ski resorts were already temporarily blocked due to spontaneous avalanches on Tuesday, but in the meanwhile the local government closed some roads as a precaution. Some ski resorts are cut off from the outside world at the moment.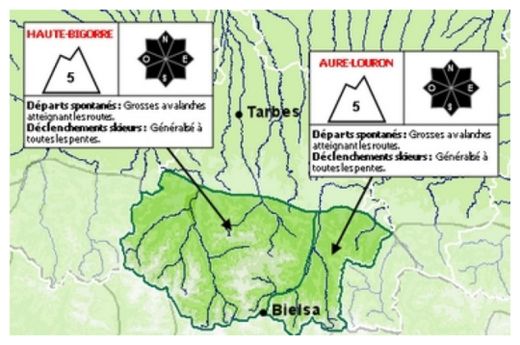 Extreme avalanche danger
The highest avalanche danger is applicable in the Pyrenees since yesterday (5 out of 5). Avalanche danger 5 is threatening the public life and large avalanches can come down spontaneously. Remember Galtür in the late nineties? The emergency services worked hard yesterday to keep the roads open. But the conditions are simply too dangerous to continue that today. Same thing for the ski resorts. It's just too dangerous to keep the lifts (and the slopes) open in such dangerous conditions and as you can imagine, all the lifts are closed today.
Historical snow fall
The start of the season wasn't that good for the Pyrenees. Until Friday. Where the snowcover was less than in other years, this huge dump changed it all. In just three days time. This is happening just once every twenty years. We have to go back to the nineties for a similar situation. Lots of snow in a short period of time and the highest avalanche danger (five) for days.
The situation remains critical the next days
Expect another 100 to 150 centimeters above 1800 meters until Monday. The snow line will be around 900 meters on Thursday and Saturday and around 1400-1750 meters on Wednesday and Friday. The question is if the ski resorts will be able to open their lifts during these days. But think about this, when it stops snowing, the sun can burst through the clouds and the avalanche danger will stabilize, then the Pyrenees just have a very impressive snow cover.