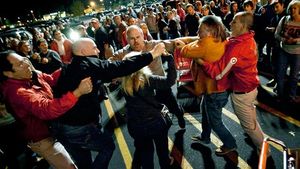 The severe drought that swept through much of the U.S. last year is continuing into 2013, threatening to cripple economic growth while forcing consumers to pay higher food prices.
"The drought will have a significant impact on prices, especially beef, pork and chicken," said Ernie Gross, an economic professor at Creighton University and who studies farming issues.
"Forecasts are for a four percent (price) increase in food this year, but I think that's on the low side if the drought continues,"
Gross said. "Food prices will likely be going up much more than the forecast."
Lack of rain and extremely warm temperatures - thought to be from global warming as well as natural climate changes - are blamed for the drought.
Last year's severe weather put nearly 80 percent of the continental United States in drought conditions - the worst in 50 years. Particularly hard it areas include the Midwest states of Illinois, Iowa, Minnesota, Nebraska, Kansas, as well as Oklahoma, Texas, Arkansas and many parts of Colorado and California.
The drought ruined key crops like corn, wheat and soybeans while driving up commodity prices and forcing farmers to scramble to find feed for livestock. Farmers are having to cut back on the number of livestock in order to limit their own costs and so create a shortage of beef, chicken and pork.
"We haven't even really seen the impact yet from last year, so things will get worse for consumers and businesses that will have to cut back because of the drought," Gross said.
And while drought conditions have eased in some areas, roughly 61 percent of the country still suffers from drought, which is still at its worst levels in more than a decade, according to the U.S. Drought Monitor.
The drought is blamed for slowing down U.S. GDP in 2012 by 0.5 of a percentage point, according to economists at Morgan Stanley. But that figure is expected to go higher in the first and second quarters of 2013 if drought conditions continue to worsen.
Estimates are that the drought has so far cost some $50 billion in productivity - from loss of crops, livestock, higher transportation costs and lost working hours.
And the U.S. government paid out nearly $8 billion to farmers in 2012 to help cover their losses as a result of the drought.
The loss of productivity has a ripple effect that could put more brakes on the economy, said Gross.
"Prices rise, consumers stop spending, farmers stop planting, food processors like Kraft and Conagra stop hiring more people so the impact is great," Gross argued.
And some 40 percent of the nation's corn crop goes to ethanol producers - and into the gas tanks of the nation's automobiles - putting more strain on food supplies.
"I talk to farmers all the time and they're worried about the drought," said Gross. "They're having to take out more loans from banks to cover their losses and that's not a good sign for agriculture or the economy."
The drought has also dried up parts of rivers like the Mississippi that are used for transporting farm products. That, too has raised prices, as other means of transport have to be found.
The lack of rain causing the drought has even raised alarms in the oil industry and started an ongoing battle with farmers and communities over who gets the shrinking water supplies.
"Drought is a concern for oil operations because all of today's drilling operations involve hydraulic fracturing which requires between 2 and 12 million gallons of water per operation," said Chris Faulkner, founder, president and CEO of Breitling Oil and Gas, an independent firm.
"We've had a hard time getting water permits as some counties in the drought areas are putting a moratorium on them to keep their water while farmers themselves are rising water prices to levels we can't afford or refusing to sell their water at all to us," Faulkner said.
"I don't think the drought will make oil prices jump just yet as we get so much oil from overseas but but it will slow down production here, " said Faulkner. "The concern is if a drought spreads globally and cuts into foreign production."
Not everyone sees a dire forecast for the economy because of the drought.
"Some prices have gone up on certain products like beef and commodities like corn, but I think we've seen the brunt of it," said Mark Zuppan, economist and dean of the Simon School of Business at the University of Rochester. "Farm revenues hit an all time high last year and we have plenty of food stored up, so I don't think we're in any major danger."
Dire or not, what's needed is more snowfall and rain, said Christopher Williams, a professor at Clark University's Graduate School of Geography.
"Some states like Illinois, California and Wisconsin are seeing more rain and snow fall then last year, but we are not in the clear yet," Williams said. "A long term drought is in effect and with conditions being the way they are now, certain parts of the country can expect to be in drought for some time to come."
"The key will be what happens in the next 3 to 6 months and if we get enough moisture."