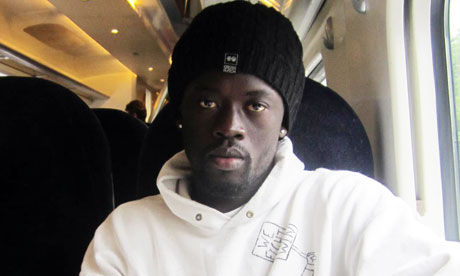 London student Tacko Mbengue says he will be persecuted if he is forced to return to his home country.
A gay student has been told to prove his sexuality or face deportation to his home country Senegal, where homosexuality is outlawed.
Serigne Tacko Mbengue, who studies at Newham College in east London, and is a LGBT campaigner for the NUS, fled to the UK in 2008 to escape homophobic persecution. But the 26-year-old is still going through the appeal process four years later because the Home Office doesn't believe he is gay.
Around 40 supporters turned up outside his hearing in London on Wednesday, only for the case to be adjourned for the second time in three months. It was rescheduled due to new evidence revealing physical and emotional scars from two attacks he suffered in Senegal because of his sexuality.
The west African state remains a dangerous place for homosexuals - anyone caught will face a prison sentence of up to five years.
Mbengue says: "I'm a very outspoken gay man. I'm not going back to Senegal. If I do, I will be a dead body."
Mbengue's lawyer, Hani Zubedei, says they have all the evidence necessary, including credible witnesses and a medical record that shows he was tortured.
But the Home Office "doubts him on credibility grounds", adds Zubeidi. They won't issue him a status document - which would give him the legal right to live and work in the UK - until he has proved his sexuality.
Mbengue is a prominent gay activist and the LGBT representative of the NUS's black campaign committee. He is also an activist for Movement For Justice, a student-led civil rights movement.
Antonia Bright, a volunteer leader at Movement for Justice, has known Mbengue since he joined the campaign group two years ago.
She says: "He is courageous, a role model. He has had such a big impact on others around him. He has drawn out the courage for other people to come out who were too scared to before."
His prominence has brought repercussions however. Shortly before Christmas, Mbengue was attacked in London by a group of Senegalese men. The group taunted him with homophobic chanting and punched him.
Antonia Bright says: "If he can be attacked in Britain, then how can he be safe in Senegal?"
Mbengue says: "My case has more witnesses and evidence than any case that the Movement for Justice has ever had - and they've been working on LGBT cases for five years."
Mbengue - who currently lives in Barking, East London - was born in the Casamas region of Senegal. He struggled to hide his sexuality from a young age and was sent by his father to a Mouride brotherhood, a Sufi Islam order, in his early teens to try and change.
He left a few years later and moved in with his aunt in Dakar to train as a welder - a job his father told him was manly. But he was forced to leave his aunt's house when she found out he was gay.
Mbengue was alone - his family had died trying to flee their home town - and struggled to survive for the next few years. He contemplated suicide, but instead vowed to leave Senegal.
He says: "If I'd been around for just a few months more, who knows, I might have done it."
He landed at Gatwick airport in December 2008 and was arrested on arrival. He spent the next two years in detention before starting an English course at Newham College in east London, where he began campaigning for gay rights.
Aaron Kiely, NUS Black Students' Officer, says: "Mbengue's case has highlighted the injustices faced by those seeking asylum in Britain.
"Tacko has shared his story with many students and has received overwhelming support from students across Britain and Ireland. Today saw around 40 people come out to support Tacko and in March we will see even more come to stand with him."
Acts of homosexuality are outlawed in Senegal under Article 319.3 of the penal code. It criminalises "indecent acts" and "acts against nature" and anyone caught faces a prison sentence of up to five years and a fine. In 2008, nine men were arrested in Mbao for going to HIV and Aids prevention training.
Mbengue says: "My country doesn't believe people can be gay. They just think it's a sickness copied from the western countries."
A Twitter hashtag -
#TackoMustStay
- has been set up for people to send messages of support. His next hearing is on 5 March.