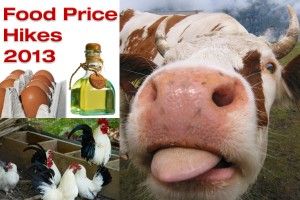 I was a bit shocked today to see the price of milk go up $0.50, seemingly overnight.
I was aware that farmland droughts this summer would raise dairy prices, but I didn't expect a sudden 17% increase for milk. What caused milk prices to surge? Are there any other food price hikes to be aware of? I started researching answers to these questions, and
The results are a bit dismal
I've been avoiding articles that add to the noise of the "fiscal cliff" war cries. Sorry to say, but the fiscal cliff has a lot to do with the recent milk price hike. An expired farm bill is among the "fiscal cliff" concerns in debate with Congress.
If a new farm bill isn't renewed, the government price for dairy products defaults to a 1949 statute. This means the government would pay twice today's price for milk. This would drive a further milk price hike for everyone.
Basically, if the dairy subsidy expires on January 1st, 2013, milk prices are expected to double.
Now, let's take a step to the side of the fiscal cliff flurry and
Peer in at other forecasted food price hikes in 2013
The United States Department Of Agriculture is a government source for economic data. All percentages provided for you on this page are publicly available from the USDA Economic Research Service.
The CPI (Consumer Price Index) tracks changes in retail food prices. Following the CPI for food is important (and often overlooked) as changes to taxes affect the agricultural economy. Farmers, processors, wholesalers, consumers, and policymakers are all involved in the economy of food. Drastic changes to taxes, fuel costs, supply and inflation are directly related to the prices we pay for food.
5 Expected Food Price Hikes
As of December 24, 2012 these are the biggest food price hikes forecasted by the USDA for year end 2012 to early 2013:
#5 Dairy + 2.0 to 2.5 %
#4 Eggs + 2.75 to 3.25 %
#3 Poultry + 5.0 to 5.5 %
#2 Fats And Oils + 5.75 to 6.25 %
#1 Beef And Veal + 6.0 to 6.5 %
Glance over the list again. See anything odd about the forecasted increase for dairy?
The USDA forecasts only a 2.0 to 2.5 % increase, yet milk just jumped 17% overnight.
And, this appears premature, as the dairy subsidy hasn't expired yet.
What caused the extreme milk price hike?
Will other extreme food price hikes soon follow?
As of this writing, I haven't found definitive answers for these questions.
If you have any further information that helps answers these questions, please share in a comment below. If not, take a moment to reach out to those in your network. Food prices affect everyone, so let's try to get this figured out.
Further information and data on Food Markets & Prices can be found
here
.