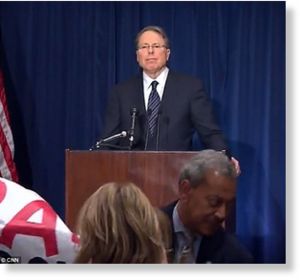 Washington - The nation's most powerful gun-rights lobby called Friday for armed security guards in schools, saying that children had been left vulnerable in their classrooms.
Wayne LaPierre, executive vice president of the National Rifle Association, said that "the monsters and the predators of the world" have exploited the fact that schools are gun-free zones. Other important institutions - from banks to airports to sports stadiums - are protected with armed security, he said, but this country has left students defenseless.
"The only thing that stops a bad guy with a gun is a good guy with a gun," Mr. LaPierre said at a news conference Friday morning.
The comments were the most extensive statements the NRA has made since the Dec. 14 killings at an elementary school in Newtown, Conn., that left 20 children and six adults dead. The gunman also killed his mother and himself. The organization issued a statement earlier this week expressing shock and sadness over the shootings.
In the aftermath of the attack at Sandy Hook Elementary School, much of the national conversation has focused on gun-control measures. But on Friday, Mr. LaPierre said that time should not be wasted on legislation that won't work.
Mr. LaPierre said that the media rewards monsters who would shoot school children by giving them the attention that they crave, and he suggested that some other deranged individual already is planning the next attack.
"The truth is that our society is populated by an unknown number of genuine monsters, people that are so deranged, so evil, so possessed by voices and driven by demons that no sane person can ever possibly comprehend them," Mr. LaPierre said.
The shootings have led to calls for a variety of new gun laws, including the reinstatement of an assault-weapons ban similar to one that was in effect from 1994 to 2004. The White House also has urged Congress to pass a ban on high-capacity magazines and to require background checks for all gun purchases.
President Barack Obama has tapped Vice President Joe Biden to lead the administration's efforts develop proposals aimed at limiting gun violence.
Mr. LaPierre said Friday that thousands of gun laws already are on the books. He suggested, though, that the prescription was not more legislation, but more security in schools. What if Adam Lanza, the alleged Newtown shooter, had been confronted by armed guards, Mr. LaPierre asked.
He called on Congress to immediately appropriate whatever is necessary to put police officers in every single school in this nation, but he said massive funding should not be required for this effort. Asa Hutchinson, a former congressman from Arkansas, will lead the NRA's effort to develop a school shield program.
Mr. Hutchinson said schools should have the opportunity to develop protection programs that suit their individual needs. Armed security would be just one component of a broader plan, he said.
In a speech that was interrupted twice by antigun protesters, Mr. LaPierre blamed "blood-soaked films," as well as videogames and music videos for creating a more violent culture in a race to the bottom.
Mr. LaPierre declined to answer any questions Friday.
Holly Thomas, a member of the Washington, D.C., chapter of One Million Moms for Gun Control, called the NRA plan "an appalling idea." With tears in her eyes she said the organization held a news conference "only to say nothing."
Andrew Nazdin, a 24-year-old who protested outside the news conference, said he did not hear "any solutions. It's time for the NRA to stand down so others can see meaningful changes so we can prevent tragedies like we saw last Friday.
The NRA, which has an estimated four million members and is buoyed by tens of millions of gun owners, is considered the largest of the gun-rights lobby. It has traditionally opposed any additional weapons laws, maintaining that existing laws need to be enforced. One area it has supported is a robust National Instant Check System, used to perform background checks on would-be buyers at federally registered firearms dealers.