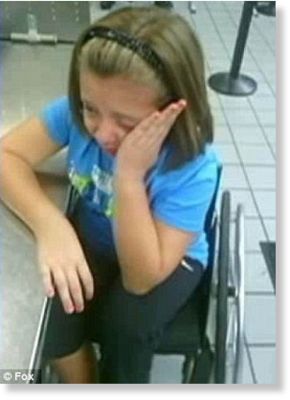 A 12-year-old girl who uses a wheelchair was left in tears after TSA agents detained her for nearly an hour at a Texas airport after saying they found traces of bomb residue on her hands, her mother claimed today. Shelbi Walser was travelling to Florida with her mother, Tammy Daniels, for treatment for her brittle bone disorder when she was stopped at Dallas-Fort Worth International Airport in Texas.
A TSA agent swabbed Shelbi's hands and she tested positive for explosives. But the wheelchair, which is likely to have transferred any substance to her hands as she pushed it, was never tested, her mother said.
A video of the December 8 incident shows Shelbi sobbing as officials detain her in front of hundreds of travellers at security, but refuse to allow her mother to get close enough to comfort her.
Daniels told Fox that they even called a bomb specialist to the scene, while other passengers reportedly spoke out in support of Shelbi and offered her tissues and candy.
'There were people saying, "Really? You're going to do this to her? Y'all have to take her somewhere private where she's not out in the public and everyone can see her",' Shelbi told
Fox
in Fort Worth.
'It was frightening. I kinda got mad.'
After nearly an hour, Daniels said agents suddenly told them they were free to pass through the security checkpoint but offered no explanation for the incident.
'It's okay, you didn't do anything wrong, we're going to get you on your way,' an agent can be heard telling Shelbi in the video as she cries into her hands.
The youngster and her mother made it just in time for their flight.
But Shelbi said that a check of wheelchair could have revealed the TSA's mistake much earlier.
'It could have come off fertilizer, because we have chickens,' she told
WFAA
. 'It could have just come off the ground, because I roll through everything.'
Her mother added that she had been left outraged by the way her daughter was treated.
'I am by no means undermining our safety in the air,' she said. 'After 9/11, by no means am I doing that. But when it comes to children, common sense is not in a textbook.'
But the TSA defended the incident in a statement.
'We are sensitive to the concerns of passengers who were not satisfied with their screening experience and we invite those individuals to provide feedback to TSA through a variety of channels,' it said.
'We work to balance those concerns with the very real threat that our adversaries will attempt to use explosives to carry out attacks on planes.'
The video is just the latest to bring the TSA's responses into question.
Last month, Representative Ralph Hall of Texas claimed his 17-year-old niece had her dress pulled down after she was taken aside to be screened at Hartsfield-Jackson Airport in Atlanta.
The incident happened two years ago but came to light under the Freedom of Information Act after it was caught on surveillance camera. Hall has called for the agent to be fired.
And last year, two other wheelchair users, Jason and Jennifer Steitler from Florida, claim they were forced up from their wheelchairs and groped under their girls by agents at Greater Rochester International Airport in New York.