A princiapal and at least two children are believed to have been shot after a gunman opened fire at an elementary school in Connecticut. Police were called to Sandy Hook Elementary School in Newtown after reports of shots being fired at 9.41am by a gunman who was said to be in the main office of the school. There are said to be a number of people with injuries. At least three are being treated at a local hospital.
State police sources said one shooter is dead. Earlier reports of a second shooter are still unconfirmed but police are said to be going from room-to-room at the school. Two handguns have been recovered at the scene. Teachers and students were said to be in morning meetings when the shots were fired. The children were locked inside their classrooms until police came and evacuated them to a nearby fire station.
One child was seen being carried from the school by a police officer, apparently seriously wounded. A person in one room had 'numerous gunshot wounds', police told the
The Hartford Courant
.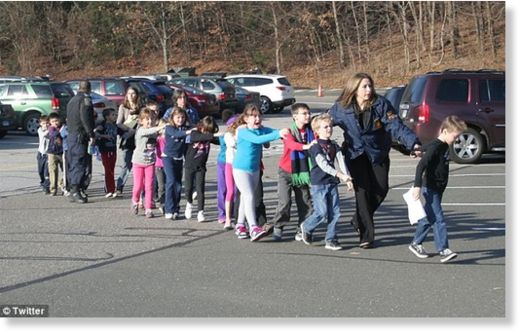 State and local police have entered the school and evacuations are underway.
Traumatized students were seen being led out of the school crying and holding hands.
There were also reports that a bomb squad was being called into the school. A helicopter was flying over the scene.
Frantic parents were rushing to the school as they were advised to go to the nearby fire station with ID to pick up their children.
A witness told News8 he saw one child with a bloodied face and another with a hand injury.
The school has about 600 students.
First Selectman Pat Llodra told
Patch
that there is no information being released about the victims - only confirming that there was a shooting.
'I'm horrified, saddened and shocked that this happened in Newtown,' Llodra said. 'Our priorities right now are making sure everyone safe and reuniting parents with their children.'