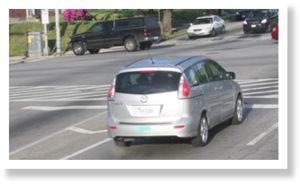 The City of Baltimore recently issued a ticket to Daniel Doty for speeding 38 miles per hour in a 25-mph zone - but photos and video captured by the speed camera system showed that his car was stopped at a red light at the time.
Doty
told The Baltimore Sun
that photos included with the ticket issued on April 24 made it "shockingly obvious" that his four-door Mazda wagon stopped at a red light with the break lights on. A three-second video clip provided as evidence also showed that Doty's car was motionless as he waited for the light to turn green.
"It was like someone was so obviously asleep at the switch," Doty explained. "I thought that was not supposed to happen."
Xerox State and Local Solutions, which is the contractor for Baltimore's speed and red light cameras, said that each citation went through a two-step review to verify its accuracy, including an officer who must swear that the vehicle was going at least 12 MPH over the posted speed limit.
Police spokesperson Anthony Guglielmi would not reveal which officer reviewed Doty's ticket, but did say that an officer could review as many as 1,200 tickets in a day.
"The department finds any error unacceptable," Guglielmi told the
Sun
.
Mayor Stephanie Rawlings-Blake's created a task force earlier this year to study the city's 83 speed cameras and 81 red light cameras.
Gov. Martin O'Malley (D), who sponsored the original legislation authorizing speed cameras in Maryland, on Tuesday
called on local governments
to stop paying contractors a bounty for the number of tickets issued because it was against state law.
"The law says you're not supposed to charge by volume. I don't think we should charge by volume," O'Malley insisted. "If any county is, they need to change their program."
Baltimore has collected more than $48 million in revenue since starting the speed camera program in 2009.
The Baltimore Police Department did not respond to a request for comment by the time of publication.
Watch this video from
The Baltimore Sun
, broadcast Dec. 12, 2012.