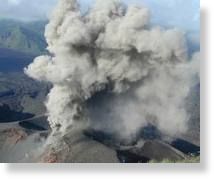 Mount Rokatenda in Sikka regency, East Nusa Tenggara (NTT), continues to spout volcanic ash. Residents living around the volcano have reportedly been evacuated to the shelter at Hewuli village administrative office in Alok Barat district. The Sikka Disaster Management Agency (BPBD) reports that 196 residents living around Mount Rokatenda had fled to Maumere city.
The ash cloud from Mount Rokatenda has affected water kept in tanks on the roofs of houses around the volcano. Residents have collected rain water to offset the impact of an eruption. As many as six of 109 Awa village residents in the shelters have been taken to Maumere regency hospital suffering from various illnesses, such as respiratory, eye and skin irritation.
A team from Sikka Health Office recently provided evacuees with medical treatment against influenza, cough and respiratory infections. Sikka BPBD head Silvanus M. Tibo said the alert status of the volcano remained at level 3, with the highest being 1, according to the report from the Rokatenda volcano observation post in Ropa, Ende regency, so the volcano is not yet considered dangerous.