Gently cradling the tiny body of his baby son to his chest, Jihad Masharawi's face is transfixed by relentless and inescapable anguish. The BBC Arabic picture editor's 11-month-old son Omar was injured in Gaza by an Israeli airstrike yesterday and despite being rushed to a local hospital, he was pronounced dead.
Israeli aircraft, tanks and naval gunboats pounded the Gaza Strip as Israel targeted the Islamic militants - the attack resulted in the death of eleven Palestinians including young Omar.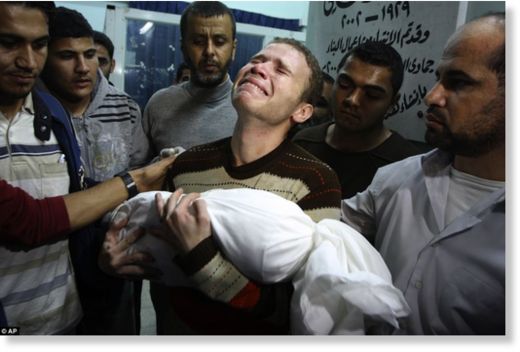 Today in retaliation three people have been killed in southern Israel by rockets fired from Gaza, amid escalating violence. The deaths are the first Israeli fatalities since militants fired into Israel after it killed a Hamas chief yesterday.
The attack struck an apartment building injuring two other people and is likely to produce a harsh response from Israel as it wages an offensive against militants in the Hamas-ruled Palestinian territory.
But Israel's Iron Dome interceptor system shot down dozens of some 130 rockets fired from Gaza in the first few hours of daylight on day two of Operation Pillars of Defence, the army said.
Israeli aircraft, tanks and naval gunboats pounded the Gaza Strip yesterday as Israel targeted the Islamic militants.
The operation, launched in response to days of rocket fire from the Palestinian territory, kicked off with the assassination of Hamas's top military commander.
The sudden conflict pours oil on the fire of a Middle East already ablaze with two years of revolution and an out-of-control civil war in Syria. Palestinian allies, led by Egyptian President Mohamed Mursi, denounced the Israeli offensive.
After watching powerlessly from the sidelines of the Arab Spring, Israel has been thrust to the centre of a volatile new world in which Islamist Hamas believes that Mursi and his newly dominant Muslim Brotherhood in Egypt will be its protectors.
The Palestinian Islamist group claimed it had fired a one-tonne, Iranian-made Fajr 5 rocket at Tel Aviv in what would be a major escalation, but there was no reported impact in the Israeli metropolis 50 km (30 miles) north of the enclave.
Read more here