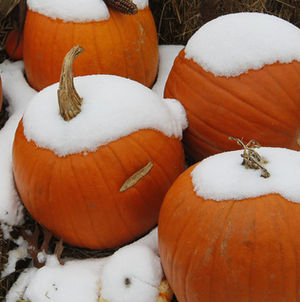 Strong winds and heavy snow whipping around superstorm Sandy battered western North Carolina Tuesday, closing schools, making roads slick and prompting Gov. Bev Perdue to declare a state of emergency for 24 mountain counties.
The superstorm dropped more than a foot of snow on some mountain counties, said James Oh, a meteorologist with the National Weather Service's office in Greer, S.C. And more was expected to fall until Tuesday night.
The snow will enable one North Carolina ski resort to schedule its earliest season opening ever. Sugar Mountain, in the town of Banner Elk, announced it will open for skiing Wednesday. The Halloween opening is its earliest ever, breaking the record of Nov. 5, set in 1976. Resort officials said both skiing and snowboarding will be available.
Gusty winds were felt as far south as Charlotte, where a wind advisory was in effect Tuesday.
The snow and bad road conditions closed schools in Ashe, Avery, Mitchell, Watauga and Yancey counties. Appalachian State University canceled classes.
Power outages were spotty. Blue Ridge Electric, which serves Alleghany, Ashe, Caldwell and Watauga counties said less than 1 percent of its customers lost power.
Duke Energy's biggest trouble area was Henderson County, where there were about 2,000 outages. But most customers in the Piedmont and foothills did not lose power.
Meteorologists say the Carolinas will stop feeling the storm's effects by early Wednesday, and temperatures in Charlotte should reach the high 60s by the end of this week. In the mountains, temperatures will remain in the 20s and 30s throughout the week, but skies will be clear.
"The good news is Sandy is weakening, and as the storm weakens, we're seeing decreasing precipitation," said Oh. "(Wednesday) late in the evening, it will all clear up."