100-year-old cold records broken, but nary a word. "An incredible departure from normal happened with yesterday's lows out there," says reader Ralph Fato. "Some spots were 25-30 below normal, breaking record-cold lows. Some records over 100 years old!"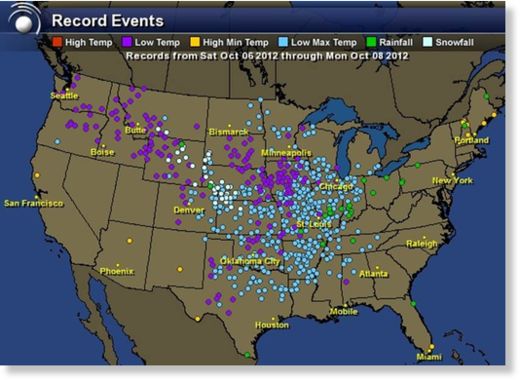 "Here's all the records from past 2 days for the U.S. Even Texas got in on the record-low action."
Total Records: 787

Rainfall: 28

Snowfall: 38

High Temperatures: 2

Low Temperatures: 189

Lowest Max Temperatures: 513

Highest Min Temperatures: 17
See interactive map
Thanks to Ralph Fato for this info
Note:
In case this info somehow magically goes bad in the future, here's a list of all the record lows, along with the date and thermometer reading of the previous record low.
AL Demopolis L Sun, 7 Oct 2012 25 40 in 1963

AL Demopolis L Sat, 6 Oct 2012 31 37 in 1971

CO Byers, 5 miles ENE of Sun, 7 Oct 2012 20 20 in 1931

CO Del Norte, 2 miles E of Sun, 7 Oct 2012 18 19 in 1992

CO Ft Morgan Sun, 7 Oct 2012 19 23 in 1935

CO Gateway Sun, 7 Oct 2012 29 29 in 1994

CO Georgetown Sun, 7 Oct 2012 16 21 in 1978

CO Grand Junction Regional Ap Sun, 7 Oct 2012 30 31 in 1990

CO Grand Lake, 6 miles SSW of Sun, 7 Oct 2012 11 14 in 1938

CO Grant Sun, 7 Oct 2012 13 17 in 1953

CO Leroy, 9 miles WSW of Sun, 7 Oct 2012 22 24 in 1898

CO Sedgwick, 5 miles S of Sun, 7 Oct 2012 20 25 in 1983

CO Walden Sun, 7 Oct 2012 -1 7 in 1935

CO Williams Fork Dam Sun, 7 Oct 2012 13 13 in 1978

HI Honolulu Observ. 702.2 Sat, 6 Oct 2012 66 66 in 1967

HI Molokai Ap 524 Sat, 6 Oct 2012 65 65 in 1964

IA Allerton Sat, 6 Oct 2012 27 29 in 1984

IA Ankeny Sun, 7 Oct 2012 23 26 in 1983

IA Atlantic, 1 miles NE of Sun, 7 Oct 2012 15 16 in 1935

IA Audubon Sun, 7 Oct 2012 16 23 in 1983

IA Boone Sun, 7 Oct 2012 19 23 in 1964

IA Britt Sun, 7 Oct 2012 20 21 in 1983

IA Carroll Sun, 7 Oct 2012 19 20 in 1957

IA Castana Exp Farm Sun, 7 Oct 2012 24 24 in 1961

IA Cedar Rapids Ap Sat, 6 Oct 2012 23 28 in 1984

IA Eldora Sat, 6 Oct 2012 25 27 in 1960

IA Eldora Sun, 7 Oct 2012 22 24 in 1983

IA Emmetsburg Sun, 7 Oct 2012 20 23 in 1957

IA Emmetsburg Sat, 6 Oct 2012 26 26 in 1984

IA Estherville, 4 miles E of Sun, 7 Oct 2012 18 19 in 1957

IA Ft Dodge, 5 miles NNW of Sun, 7 Oct 2012 19 25 in 1983

IA Grundy Ctr Sun, 7 Oct 2012 21 24 in 1879

IA Guthrie Ctr Sun, 7 Oct 2012 16 24 in 1974

IA Harlan, 1 miles N of Sun, 7 Oct 2012 20 23 in 1935

IA Indianola, 2 miles W of Sat, 6 Oct 2012 22 22 in 1936

IA Indianola, 2 miles W of Sun, 7 Oct 2012 20 24 in 1983

IA Iowa Falls Sun, 7 Oct 2012 23 24 in 1983

IA Jefferson Sun, 7 Oct 2012 18 26 in 1957

IA Lamoni Sun, 7 Oct 2012 27 33 in 1918

IA Leon, 6 miles ESE of Sun, 7 Oct 2012 22 22 in 1971

IA Logan Sun, 7 Oct 2012 18 26 in 1957

IA Mapleton No.2 Sun, 7 Oct 2012 16 21 in 1957

IA Marshalltown Sun, 7 Oct 2012 24 25 in 1935

IA Mason City Muni Ap Sun, 7 Oct 2012 19 21 in 1983

IA New Hampton Sun, 7 Oct 2012 24 24 in 1983

IA Osceola Sun, 7 Oct 2012 19 23 in 1957

IA Ottumwa Industrial Ap Sun, 7 Oct 2012 25 26 in 1983

IA Rockwell City Sun, 7 Oct 2012 23 24 in 1957

IA Sac City Sun, 7 Oct 2012 17 23 in 1957

IA Sibley, 3 miles NE of Sun, 7 Oct 2012 14 19 in 1957

IA Sioux City Ap Sun, 7 Oct 2012 15 23 in 1983

IA Sioux Ctr, 2 miles SE of Sun, 7 Oct 2012 18 19 in 1957

IA Waterloo Municipal Ap Sun, 7 Oct 2012 24 24 in 1971

IA Webster City Sun, 7 Oct 2012 16 23 in 1935

IA Williamsburg, 3 miles SE of Sun, 7 Oct 2012 21 22 in 1935

IA Winterset, 1 miles N of Sun, 7 Oct 2012 18 23 in 1935

ID Elk City, 1 miles NE of Sat, 6 Oct 2012 10 10 in 1958

ID Idaho Falls, 16 miles SE of Sun, 7 Oct 2012 16 16 in 1975

ID Kellogg Sat, 6 Oct 2012 25 25 in 1984

ID May, 2 miles SSE of Sun, 7 Oct 2012 16 17 in 1992

ID Middle Fork Lodge Sat, 6 Oct 2012 19 19 in 1965

ID Nezperce Sat, 6 Oct 2012 18 19 in 1958

ID Nezperce Sun, 7 Oct 2012 15 23 in 1973

ID Palisades Sun, 7 Oct 2012 21 22 in 1953

ID Pierce Sat, 6 Oct 2012 19 20 in 1965

ID Pocatello Rgnl Ap Sat, 6 Oct 2012 21 21 in 1984

ID Pocatello Rgnl Ap Sun, 7 Oct 2012 18 21 in 1957

ID Stanley Sun, 7 Oct 2012 6 11 in 1951

ID Stanley Sat, 6 Oct 2012 5 12 in 1984

ID Swan Falls P H Sun, 7 Oct 2012 34 34 in 1957

ID Tetonia Exp Stn Sun, 7 Oct 2012 13 14 in 1983

ID Tetonia Exp Stn Sat, 6 Oct 2012 12 12 in 1985

IL Geneseo Sat, 6 Oct 2012 29 31 in 1972

IL Joliet Brandon Rd Dam Sun, 7 Oct 2012 31 32 in 1984

KS Abilene Sun, 7 Oct 2012 28 28 in 1983

KS Belleville Sun, 7 Oct 2012 25 26 in 1983

KS Newton Sun, 7 Oct 2012 29 29 in 1983

KS Toronto Lake Sun, 7 Oct 2012 32 33 in 1961

MI Onaway, 4 miles N of Sun, 7 Oct 2012 27 27 in 1960

MN Grand Meadow Sun, 7 Oct 2012 19 22 in 1984

MN Milaca Sun, 7 Oct 2012 21 22 in 1881

MN Winnebago Sun, 7 Oct 2012 21 23 in 1957

MO Buffalo, 2 miles N of Sun, 7 Oct 2012 28 30 in 1974

MO Chillicothe, 2 miles S of Sat, 6 Oct 2012 31 31 in 1972

MO Hamilton, 2 miles W of Sun, 7 Oct 2012 23 25 in 1974

MO Hamilton, 2 miles W of Sat, 6 Oct 2012 28 29 in 1963

MO Joplin Regional Airport Sat, 6 Oct 2012 33 35 in 1975

MO Kansas City Intl Ap Sun, 7 Oct 2012 26 27 in 1983

MO St Joseph Rosecrans Mem Sat, 6 Oct 2012 27 27 in 1936

MO St Joseph Rosecrans Mem Sun, 7 Oct 2012 22 26 in 1935

MO St Louis Sci Ctr Sun, 7 Oct 2012 37 38 in 1971

MO St Louis Sci Ctr Sat, 6 Oct 2012 37 37 in 1972

MO Warrensburg, 4 miles NW of Sun, 7 Oct 2012 30 30 in 1974

MO Wasola, 5 miles N of Sat, 6 Oct 2012 35 35 in 1994

MT Boulder Sun, 7 Oct 2012 12 12 in 1983

MT Bozeman Gallatin Fld Sat, 6 Oct 2012 14 15 in 1958

MT Del Bonita Sat, 6 Oct 2012 11 16 in 1984

MT Dillion U Of Montana Western Sat, 6 Oct 2012 14 16 in 1984

MT Dillon Airport Sat, 6 Oct 2012 13 14 in 1958

MT Ennis Sun, 7 Oct 2012 14 14 in 1983

MT Ennis Sat, 6 Oct 2012 12 16 in 1958

MT Gardiner Sat, 6 Oct 2012 18 19 in 1958

MT Hamilton Sun, 7 Oct 2012 20 20 in 1957

MT Helena Ap Asos Sat, 6 Oct 2012 19 19 in 1958

MT Joliet Sat, 6 Oct 2012 17 20 in 1984

MT Joliet Sun, 7 Oct 2012 17 17 in 1983

MT Melville, 4 miles W of Sat, 6 Oct 2012 6 13 in 1984

MT Mizpah, 4 miles NNW of Sat, 6 Oct 2012 13 15 in 1989

MT Mystic Lake Sat, 6 Oct 2012 5 15 in 1958

MT Polebridge Sat, 6 Oct 2012 11 16 in 1993

MT Polson Sat, 6 Oct 2012 21 23 in 1958

MT Polson Sun, 7 Oct 2012 21 27 in 1973

MT Summit Sat, 6 Oct 2012 9 16 in 1941

MT Superior Sat, 6 Oct 2012 21 21 in 1958

MT Townsend Sat, 6 Oct 2012 14 16 in 1984

MT White Sulphur Sprngs 2 Sat, 6 Oct 2012 10 14 in 1984

MT Wisdom Sun, 7 Oct 2012 5 6 in 1973

MT Wisdom Sat, 6 Oct 2012 -1 2 in 1958

NE Butte Sat, 6 Oct 2012 20 24 in 1984

NE Columbus, 3 miles NE of Sun, 7 Oct 2012 22 22 in 1935

NE Dalton Sun, 7 Oct 2012 22 23 in 1959

NE David City Sun, 7 Oct 2012 20 22 in 1983

NE Fairbury, 5 miles S of Sun, 7 Oct 2012 24 24 in 1935

NE Fremont Sun, 7 Oct 2012 22 24 in 1935

NE Greeley Sun, 7 Oct 2012 15 17 in 1983

NE Harrisburg, 12 miles WNW of Sun, 7 Oct 2012 20 20 in 1983

NE Harrison Sun, 7 Oct 2012 18 18 in 1935

NE Hershey, 5 miles SSE of Sun, 7 Oct 2012 22 22 in 1983

NE Imperial Sun, 7 Oct 2012 15 16 in 1935

NE Newport Sun, 7 Oct 2012 18 19 in 1983

NE Newport Sat, 6 Oct 2012 17 21 in 1936

NE Norfolk Ap Sun, 7 Oct 2012 18 20 in 1983

NE Oakdale Sun, 7 Oct 2012 15 18 in 1935

NE Oakdale Sat, 6 Oct 2012 20 21 in 1984

NE Omaha Eppley Airfield Sat, 6 Oct 2012 26 27 in 1984

NE Scottsbluff Ap Sun, 7 Oct 2012 21 21 in 1935

NE Seward Sun, 7 Oct 2012 21 22 in 1983

NE Springview Sat, 6 Oct 2012 17 21 in 1936

NE Springview Sun, 7 Oct 2012 19 19 in 1983

NE Tecumseh, 1 miles S of Sun, 7 Oct 2012 18 20 in 1935

NE Tekamah Sun, 7 Oct 2012 22 25 in 1935

NE Wakefield Sun, 7 Oct 2012 17 18 in 1957

NE West Point Sun, 7 Oct 2012 20 22 in 1935

OK Billings Sun, 7 Oct 2012 30 35 in 1984

OK Blackwell Sun, 7 Oct 2012 33 38 in 1984

OK Enid Sun, 7 Oct 2012 34 34 in 1935

OK Helena, 1 miles SSE of Sun, 7 Oct 2012 32 35 in 1984

OK Meeker, 5 miles W of Sun, 7 Oct 2012 33 34 in 1936

OK Miami Sun, 7 Oct 2012 25 27 in 1935

OK Sallisaw, 2 miles NW of Sat, 6 Oct 2012 31 33 in 1916

OK Tulsa Intl Ap Sun, 7 Oct 2012 32 33 in 1935

OK Watonga Sun, 7 Oct 2012 31 35 in 1984

OR Baker City Ap Sat, 6 Oct 2012 15 19 in 1958

OR Grizzly Sun, 7 Oct 2012 18 18 in 1953

OR John Day Sat, 6 Oct 2012 22 23 in 1958

OR Long Creek Sat, 6 Oct 2012 20 24 in 1957

OR Madras Sun, 7 Oct 2012 19 19 in 1973

OR Madras Sat, 6 Oct 2012 18 19 in 1921

OR Ochoco Rs Sun, 7 Oct 2012 20 20 in 1973

OR Ochoco Rs Sat, 6 Oct 2012 20 20 in 1967

OR Owyhee Dam Sat, 6 Oct 2012 25 28 in 1993

OR Owyhee Dam Sun, 7 Oct 2012 27 27 in 1992

OR Pendleton E Or Rgnl Ap Sat, 6 Oct 2012 29 31 in 1958

OR Redmond Ap Sat, 6 Oct 2012 16 18 in 1984

OR Summer Lake, 1 miles S of Sun, 7 Oct 2012 22 24 in 1973

SD Aberdeen Rgnl Ap Sat, 6 Oct 2012 19 20 in 1985

SD Aberdeen Rgnl Ap Sun, 7 Oct 2012 14 14 in 1935

SD Academy, 2 miles NE of Sun, 7 Oct 2012 20 20 in 1935

SD Academy, 2 miles NE of Sat, 6 Oct 2012 22 23 in 1975

SD Faulkton, 1 miles NW of Sat, 6 Oct 2012 19 20 in 1919

SD Huron Ap Sat, 6 Oct 2012 20 21 in 1919

SD Kennebec Sat, 6 Oct 2012 15 17 in 1984

SD Kirley, 6 miles N of Sat, 6 Oct 2012 17 20 in 1975

SD Mission, 14 miles S of Sat, 6 Oct 2012 16 20 in 1937

SD Murdo Sat, 6 Oct 2012 21 23 in 1984

SD Pickstown Sat, 6 Oct 2012 25 28 in 1984

SD Pierre Rgnl Ap Sat, 6 Oct 2012 19 21 in 1984

SD Timber Lake Sat, 6 Oct 2012 17 17 in 1984

SD Vermillion, 2 miles SE of Sun, 7 Oct 2012 18 22 in 1957

SD Wessington Springs Sat, 6 Oct 2012 23 27 in 1984

SD White Lake Sun, 7 Oct 2012 19 20 in 1935

SD White Lake Sat, 6 Oct 2012 20 21 in 1984

TX Bakersfield Sun, 7 Oct 2012 40 44 in 1988

TX Big Lake 2 Sun, 7 Oct 2012 38 42 in 1988

TX Brownfield #2 Sun, 7 Oct 2012 35 36 in 1983

TX Childress Muni Ap Sun, 7 Oct 2012 36 37 in 1983

TX Cope Rch Sun, 7 Oct 2012 39 40 in 1983

TX Dimmitt, 2 miles N of Sun, 7 Oct 2012 30 33 in 1984

TX Eden Sun, 7 Oct 2012 40 42 in 1988

TX Midland, 4 miles ENE of Sun, 7 Oct 2012 34 37 in 1935

TX Olton Sun, 7 Oct 2012 33 35 in 1983

TX Paducah Sun, 7 Oct 2012 41 43 in 1968

TX Rocksprings, 1 miles S of Sun, 7 Oct 2012 42 44 in 1988

TX Sherman Sun, 7 Oct 2012 41 41 in 1983

UT Alpine Sun, 7 Oct 2012 30 30 in 1992

WA Goldendale Sat, 6 Oct 2012 23 23 in 1954

WA Monroe Sat, 6 Oct 2012 31 32 in 1958

WA Olympia Ap Sat, 6 Oct 2012 28 30 in 1993

WA Pomeroy Sat, 6 Oct 2012 28 29 in 1974

WA Raymond, 2 miles S of Sat, 6 Oct 2012 28 32 in 1993

WA Richland Sat, 6 Oct 2012 32 32 in 1958

WA Sunnyside Sat, 6 Oct 2012 28 28 in 1958

WA Upper Baker Dam Sat, 6 Oct 2012 33 33 in 1958

WI Racine Sun, 7 Oct 2012 31 31 in 1984

WI Racine Sat, 6 Oct 2012 23 26 in 1936

WI Solon Springs Sun, 7 Oct 2012 21 23 in 1984

WY Afton Sun, 7 Oct 2012 14 15 in 1959

WY Bedford, 3 miles SE of Sun, 7 Oct 2012 13 14 in 1968

WY Bedford, 3 miles SE of Sat, 6 Oct 2012 13 16 in 1984

WY Billy Creek Sun, 7 Oct 2012 12 15 in 1983

WY Bitter Creek, 4 miles NE of Sun, 7 Oct 2012 13 16 in 1983

WY Boysen Dam Sat, 6 Oct 2012 26 26 in 1993

WY Burgess Junction Sat, 6 Oct 2012 -5 2 in 1963

WY Burris Sun, 7 Oct 2012 16 21 in 1975

WY Clark, 3 miles NE of Sat, 6 Oct 2012 11 17 in 1984

WY Dubois Sun, 7 Oct 2012 11 15 in 1935

WY Glenrock, 5 miles ESE of Sun, 7 Oct 2012 20 20 in 1983

WY Green River Sun, 7 Oct 2012 18 18 in 1957

WY Jeffrey City Sun, 7 Oct 2012 11 13 in 1992

WY Laramie, 2 miles NW of Sun, 7 Oct 2012 8 11 in 1960

WY Laramie Ap Sun, 7 Oct 2012 6 12 in 1953

WY Moose Sun, 7 Oct 2012 9 12 in 1984

WY Moose Sat, 6 Oct 2012 11 13 in 1958

WY Old Faithful Sat, 6 Oct 2012 6 6 in 1993

WY Rawlins Ap Sat, 6 Oct 2012 16 20 in 1985

WY Rock Springs Ap Sun, 7 Oct 2012 20 20 in 1953

WY Shell, 1 miles NE of Sun, 7 Oct 2012 16 16 in 1983

WY Snake River Sat, 6 Oct 2012 7 8 in 1939

WY Sunshine, 3 miles NE of Sun, 7 Oct 2012 8 8 in 1992

Thanks to Ralph Fato for this list