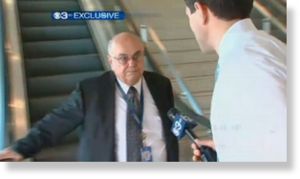 In 2002, Thomas Harkins was permanently removed by the Catholic Church after 20-plus years of allegations that the former clergyman had molested children at parishes across the East Coast. Today, he's your friendly TSA agent.
Despite being excommunicated and forced to pay around $195,000 to settle civil lawsuit relating to a barrage of sex-crime charges in the greater Philadelphia area, Harkins, now 65, didn't have a problem finding a new job after being booted from the Catholic Church in 2002. Shortly after, he was hired by the Transportation Security Administration and assigned to a position that required him to routinely pat-down young children and subject them to the evasive, hands-on body scans that have become a hallmark of post-9/11 America.
The Church reached out to the TSA and told the federal agency of Harkins' sordid pass - which includes several allegations that suggest the priest molested young girls as early as 1979. He was transferred in 2000 to a prison to serve as a chaplain there and, two years later, permanently removed from the Catholic community.
As a TSA agent, Harkins touched passengers - children and adults, alike - until 2004. At that point, the
Philadelphia Inquirer
has learned, he was promoted to a supervising provision where he remains today, overseeing checked baggage. Now he maintains a quiet life as a federal security staffer, despite once looking at a life in jail for a series of sex crimes.
Because those crimes never made it through a full court trial, however, the TSA says they have their hands tied.
"An allegation alone does not warrant dismissal or automatically disqualify applicants from employment with the TSA," spokeswoman Ann Davis tells the
Inquirer
.
That isn't to say that the TSA was never made aware of Harkins past: the TSA was presented with a letter in 2003 that revealed the agent quickly rising to the ranks in the security sector "was placed on restrictive ministry in 1993, when the diocese received a report of inappropriate sexual conduct on the part of Harkins toward an adolescent female."
"In the same year, the diocese learned of inappropriate sexual conduct on the part of Harkins toward another adolescent female, and he was sent for an evaluation. Upon receipt by the diocese of the report by the evaluators, Mr. Harkins was removed from his post at Camden Catholic High School," the letter continued.
Ann Davis of the TSA tells the
Inquirer
that the Privacy Act of 1974 prohibits her agency of discussing what exactly was involved in the hiring process that brought Harkins aboard in 2002, but says, "all TSA employees undergo comprehensive background checks, which include criminal history." Claims like these dismissing any wrongdoing on the TSA part are receiving extra scrutiny now that the
Inquirer
has exposed Harkins' history before becoming a federal employee amid ongoing gaffes that have given airport screeners a bad rap.
Just last month, the Subcommittee on Transportation Security of the Committee on Homeland Security explained to its Majority Staff Report that "the Transportation Security Administration (TSA) was created to help restore confidence in aviation security" in the wake of the September 11, 2001 terrorist attacks. "Congress provided TSA with the flexibility to set policies and procedures for screening people and goods as they moved through our transportation systems. Unfortunately, that flexibility has been exploited by TSA in recent years. Its operations are in many cases costly, counterintuitive, and poorly executed. Despite the reality that we have not endured another successful terrorist attack since 2001, TSA is failing to meet taxpayers' expectations," the report adds.
Meanwhile, taxpayers continue to pay excises that go towards Harkin's $75,000 annual salary.