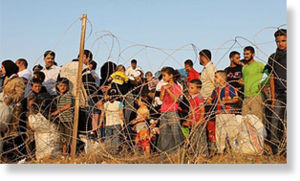 The number of refugees fleeing Syria could reach 700,000 by the end of the year, the UN refugee agency said on Thursday, almost four times its previous forecast. Most faced what was likely to be a bitterly cold winter living in tents with little prospect of returning to their homeland, it said.
About 294,000 refugees fleeing 18 months of conflict in Syria have crossed into four neighbouring countries - Jordan, Iraq, Lebanon and Turkey - or await registration there, it said.
"This is a significant outflow taking place, 100,000 people in August, 60,000 in September and at the moment 2,000 or 3,000 per day or night," Panos Moumtzis, regional refugee co-ordinator for the UN refugee agency UNHCR, told a news briefing.
About 5,000-6,000 Syrians have reached other parts of north Africa, mainly Egypt, while other refugees are turning up in southern Europe, including Cyprus and Greece, he said.
The previous forecast of 185,000 refugees was surpassed in August.
UN aid agencies and humanitarian partners issued a funding appeal of $487.9 million to help meet the needs of the rapidly growing outflow from Syria.
So far donors have given $141.5 million towards humanitarian assistance for the estimated 294,000 Syrians who have fled abroad, the UN refugee agency and 51 other aid groups said in a joint appeal."The most important part is the preparing for winter months. The winter period is very harsh in that region," Moumtzis said. A further 1.2 million have been uprooted within Syria, the United Nations says.Bombardment and heavier fighting between government forces and militants is forcing Syrians to flee hot spots across the country, Moumtzis said.
Many cross borders with only the clothes on their backs after a perilous journey through frontlines.
"These are families, women and children who escaped Homs, Hama, Deraa, Idlib, Aleppo who have come out with traumatic experiences and have told us they have fled," Moumtzis said.