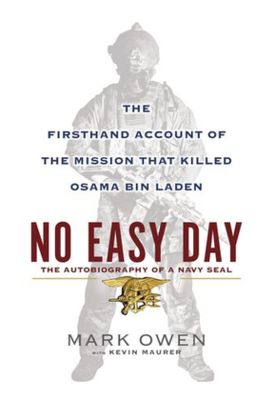 Former Navy SEAL Matt Bissonnette is going to tell his version of events surrounding the death of Osama bin Laden, even if the Pentagon sues him for every last penny.
Last night, the Defense Department's top attorney wrote a
letter to Bissonnette
threatening to use "all remedies legally available" against him for the publication of
No Easy Day
, his firsthand account of the mission to kill bin Laden in Pakistan. "You are in material breach and violation of the nondisclosure agreements you signed," wrote Pentagon general counsel Jeh Charles Johnson. The letter hinted at a criminal prosecution of Bissonnete for disclosing classified information and threatened to seize the royalties from his book and go after his publisher Dutton, an imprint of Penguin Group. In a written response, a lawyer representing Bissonnette denied his client breached his nondisclosure agreement in a letter to the Pentagon. (The letter, obtained by The
Atlantic Wire
, refers to Bissonnette under his pen name Mark Owen.)
"Mr. Owen sought legal advice about his responsibilities before agreeing to publish his book and scrupulously reviewed the work to ensure that it did not disclose any material that would breach his agreements or put his former comrades at risk," wrote Robert D. Luskin, an attorney at D.C. lobbying behemoth Patton Boggs. "Mr. Owen is proud of his service and respectful of his obligations. But he has earned the right to tell his story."
According to the letter, the nondisclosure agreement signed by Bissonnette when he was a SEAL only applied to "specially identified Special Access Programs" and not missions such as the May 1, 2011 raid.
That's an argument that may come as a surprise to some legal experts, who considered the Pentagon's case against Bissonnette a
"slam dunk"
given his failure to submit his book for pre-publication review. Attorney Scott Hodes, an expert in government secrecy issues, tells
The Atlantic Wire
that Bissonnette's lawyer appears to be looking out for the interests of Bissonnette's publisher. "I think this is the position of someone defending a publisher who is publishing a book that may have classified information in it," said Hodes. Bradley Moss, a Washington-based national security attorney, also expressed concern that Bissonnette is in over his head:
Bradley P. Moss, Esq @BradMossEsq

Mr. Owens, respectfully, your lawyer is failing you and doesn't know how this works. #NDA's are written broadly. tinyurl.com/9pktkms
For a fuller look at the serious legal ramifications facing Bissonnette see our earlier report
here
. I've posted the entire letter from Bissonnette's attorney below: